All indications are that Bitcoin is not doing well. The Bitcoin price has collapsed by more than 44% from its all-time high, meaning that investors have lost more than $500 billion in the past four months. As BTC has unraveled, altcoins like Ethereum, Ripple, and Avalanche have also retreated.
Danger sides emerge
A closer look at important on-chain data shows that Bitcoin is in trouble and that bulls have a difficult task in the coming days. One of the most important indicators is that the number of activities in Bitcoin's ecosystem has not only flattened but even declined. This means that people are no longer sending and receiving coins as they used in the past few months.
As a result, the average fee in the ecosystem has dropped from about 19 to 10. Another important observation is that many Bitcoin holders are currently in the loss category. According to GlassNode, about 30% of all Bitcoin holders have made a loss, meaning that they bought the coin when its price was above $40,000. These individuals could soon flood the market with more Bitcoin.
The same trend is happening in the ETF market, where the top Bitcoin ETFs have been seeing significant outflows. For example, a Canadian Bitcoin ETF has been posting outflows in the past few weeks.
Bitcoin vs gold
Bitcoin price also faces a major challenge from gold. Turns out, gold is becoming a better hedge against risk and inflation than Bitcoin, as evidenced by its recent performance. While Bitcoin has fallen by double digits, gold has climbed to the highest level in more than 6 months.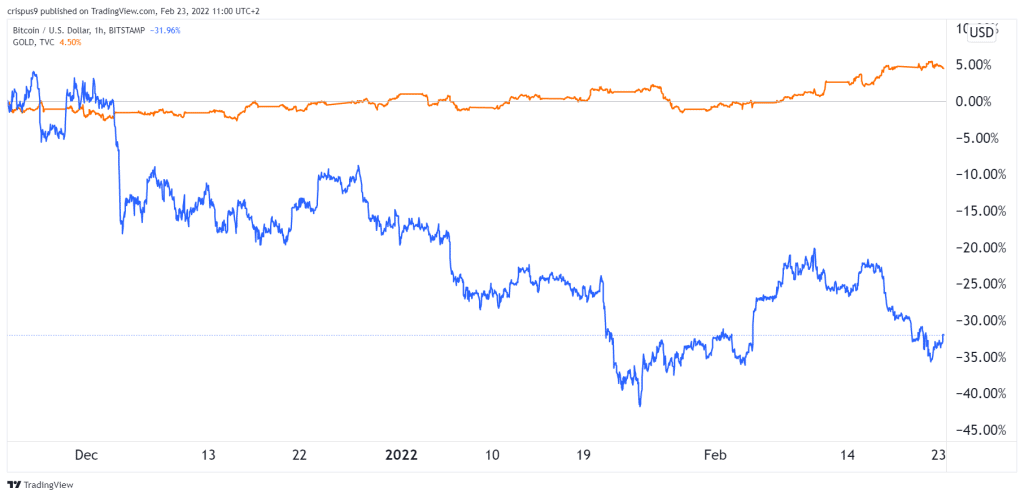 Another BTC price risk is that the Federal Reserve is close to lifting off and the unlimited liquidity that existed in 2021 has faded. The Fed is expected to hike interest rates about three to four times this year and there will be no fiscal stimulus considering that Build Back Better has stalled.
Further, people are no longer trading as much as they did in 2021. Everything that was hot last year has become extremely cold. Technology stocks like Meta Platforms and Roku have collapsed, while meme stock companies like GameStop and AMC are shadows of their former selves.
Bitcoin price prediction
Looking at the daily chart brings several conclusions. The chart shows that the BTC price dropped to a YTD low of $32,947 in January this year. It then attempted to bounce back but bulls were unable to push it above the key resistance at $46,172. Therefore, we can conclude that bears seem to be confident that they can retest the YTD low and possibly move below the next support at $30,000. This view will become invalid of the price moves above $46,172.