Our Bitcoin price prediction suggests it could soar to 51k as soon as the ongoing correction ends. BTC price has been in a severe downtrend since the start of 2022. It is mostly due to the fears related to FED tightening and ongoing tensions in Eastern Europe. Nevertheless, there seems to be a crucial demand zone below 35k as Bitcoin soared after hitting those levels.
Latest Bitcoin News
According to recent BTC news, the hashrate is rising once again. At the time of writing, 203 million TH/s are securing the network by Bitcoin mining. This is great news for the bulls as the hashrate plummeted to 85 million TH/s after China banned Bitcoin mining. Bitcoin price USD is trading at $43,377 after breaking below the crucial 46k region.
As per the latest Bitcoin news, the biggest cryptocurrency has achieved the milestone of 19 million coins. This could be very bullish for any Bitcoin price prediction. This means that 19 million coins have been unlocked out of its total supply of 21 million. This is a massive milestone as now only 2 million coins would be unlocked in the next 120 years.
Bitcoin Price Technical Analysis
The BTCUSD technical analysis shows that it is trading sideways after breaking below the 44k-46k region. This region is very critical for the price of Bitcoin as it was acting as a strong resistance. Nevertheless, BTCUSD broke this resistance on 27th March, but the bulls lost momentum immediately. This lack of firepower from the bulls allowed the bears to push the price below the $44k region. This move has also delayed the golden cross as the 50EMA was about to cross the 200EMA soon.
BTCUSD Price Chart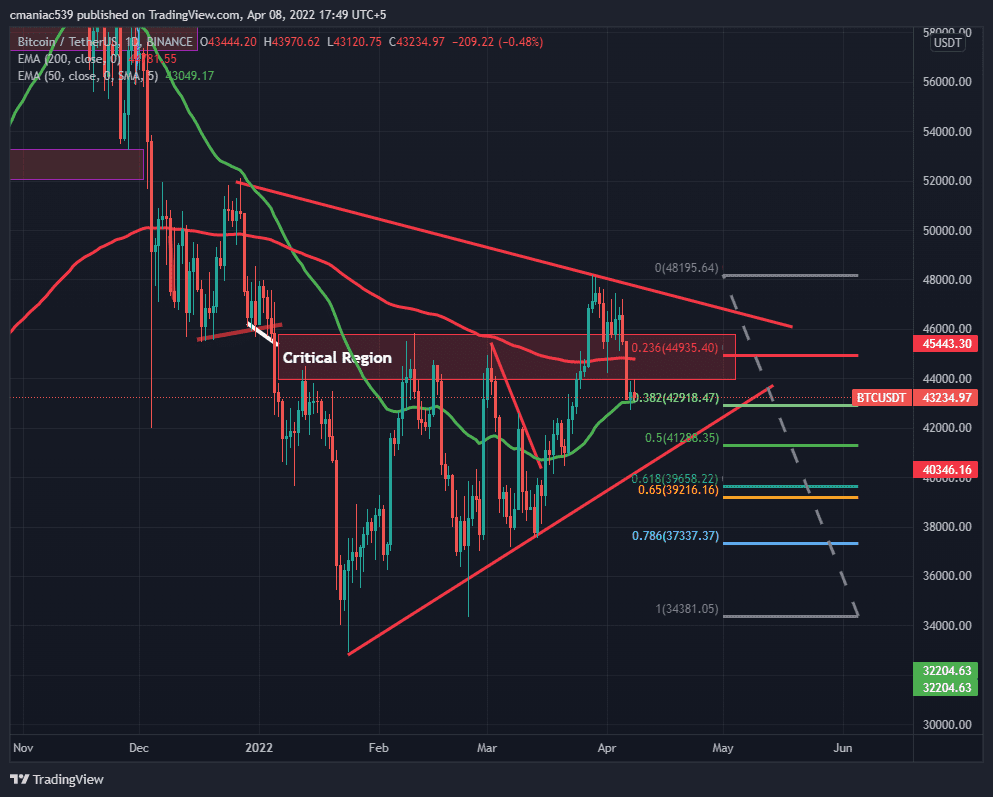 For any bullish Bitcoin price prediction, it needs to hold the $40k level. Any breach of the $40k level could be curtains for the bulls as the price could retest the lower 30k range. Similarly, a reclaim of the $46k level could propel Bitcoin USD price to 51k within no time. Therefore, proper risk management is necessary before entering any trade. The uncertainty in BTC is also affecting the rest of the crypto markets. Most altcoins like Ethereum are following Bitcoin moves in the ongoing correction.