The Bitcoin Cash price is starting to make its move. BCH has burst through trend resistance and toppled the 200-day Moving Average. Bitcoin Cash (BCH) is trading at $662 (+4%), up around 10.5% in November and 90% year-to-date. BCH's market cap has risen to $12.2 billion, ranking it the 21st most valuable crypto asset behind Algorand (ALGO).
Bitcoin Cash, like many legacy altcoins, has been left behind in the recent altcoin market boom. Instead, investors are piling into Decentralized Finance (DeFi) and layer-1's with smart contract functionality. As a result, the old-school peer-to-peer payment coins have struggled to sustain prolonged rallies. However, the cryptocurrency market is cyclical by nature, and capital often rotates from winners into laggards, making BCH an attractive catch-up play. Furthermore, Bitcoin Cash is trading close to its lowest-ever valuation relative to Bitcoin (BTC), underscoring its cheapness. Not to mention, the last time BCH/BTC traded this low marked the start of a 285% rally in the Bitcoin cash price.
Bitcoin Cash (BCH) vs Bitcoin (BTC)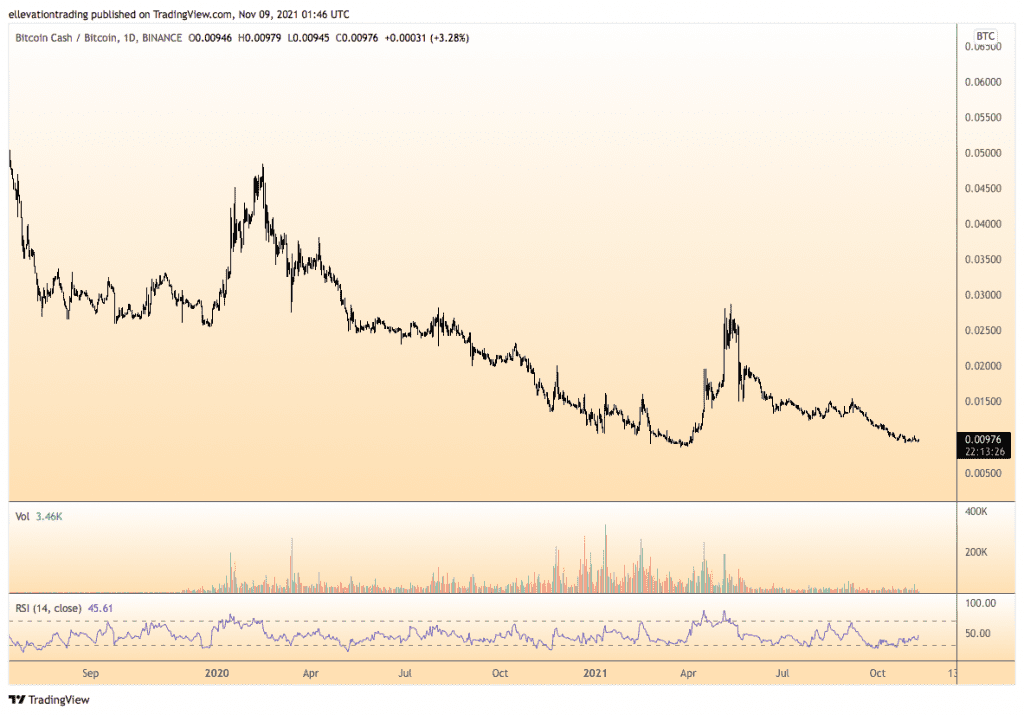 BCH Price Analysis
The daily chart (BCH/USD) shows that BCH has broken out of a symmetrical triangle formation and cleared the critical moving averages. However, the 200-Day at $655.65 offers some resistance. Nonetheless, BCH is currently above the long term average, and a close above $655.65 confirms the clearance.
The Relative Index (RSI) at 63.50 is also pointing higher, reinforcing the bullish outlook. If Bitcoin cash finishes the day above the 200 DMA, I expect an advance towards the 6th of September high of $804. However, I consider $804 a conservative price target and believe we could see $1,200 if the cryptocurrency market maintains its current momentum.
On the other hand, if the market turns lower and BCH drops below the trend line at $594, it will indicate a false breakout, invalidating my bullish thesis.
Bitcoin Cash Price Chart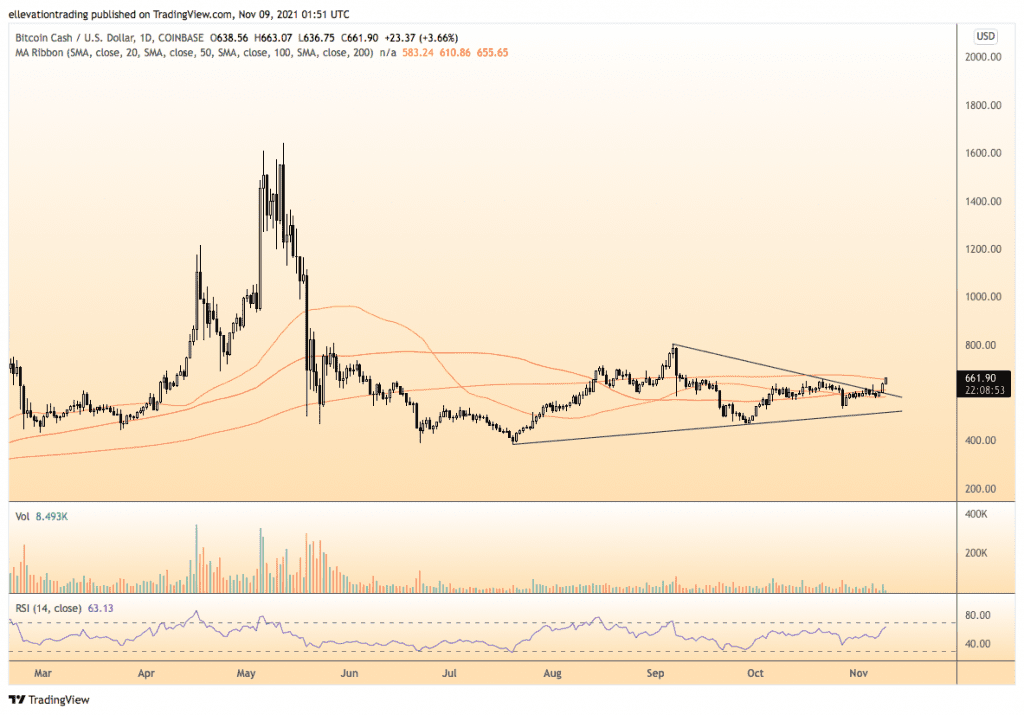 For more market insights, follow Elliott on Twitter.