The Binance Coin price recovery hit an obstacle yesterday after reaching trend resistance, and today will decide if the bull market is intact or not. Like many top cryptos, Binance Coin (BNB/USD) has bounced from Tuesday's flash crash lows. However, BNB is yet to reclaim the uptrend that started in July. Furthermore, yesterday's knee-jerk bounce failed at the same place as the snap-back from the may 19th collapse.
After six-week of uninterrupted upside, the odds of a cryptocurrency market correction were high. However, the scale and velocity of Tuesday's collapse were surprising. Bitcoin (BTC/USD) lost 18%, and some altcoins lost more than 50% in a matter of hours. Considering this, Binance Coin held up ok. At the $358.50 low point on Tuesday, BNB was down 35% before paring the loss to 15% by the end of the day. However, although Binance Coin staged a late-day recovery on Tuesday, the price could not continue the ascent yesterday. And as a result, the technicals are turning negative.
BNB Price Forecast
The daily chart shows that BNB had respected a rising trend line from the July low until Tuesday. However, when the trend at $422 fell under the weight of heavy selling, the decline accelerated below the 100-day moving average at $391.33. On a positive note, the selloff fell short of testing the 200 DMA at $343.55. Furthermore, yesterday's bounce reclaimed the 100 DMA and took the Binance Coin price back to the trend. However, the trend has rejected the price so far, and this could be setting up for another leg lower. Coincidentally, the trend lines up with the High from May 20th, the level the rally faded following the historic collapse on the 19th, which reinforces its resistance.
As long as BNB stays below the uptrend, it will be vulnerable to further liquidation. Additionally, the Relative Strength Index (RSI) is trending lower. Also, the Moving Average Convergence Divergence Indicator (MACD) shows growing negative momentum.
Targets on the downside include the 100 DMA at $391.37 and the significant 200-day average at $343.56. Should the price slip below the 200 DMA, it would suggest a severe breakdown in sentiment and likely lead to a return to the July lows around $255.
However, if the Binance Coin price reclaims the uptrend, the outlook turns sharply positive. In this bullish event, BNB should continue higher rand test trend resistance at $548, just above Sunday's high.
Binance Coin Price Prediction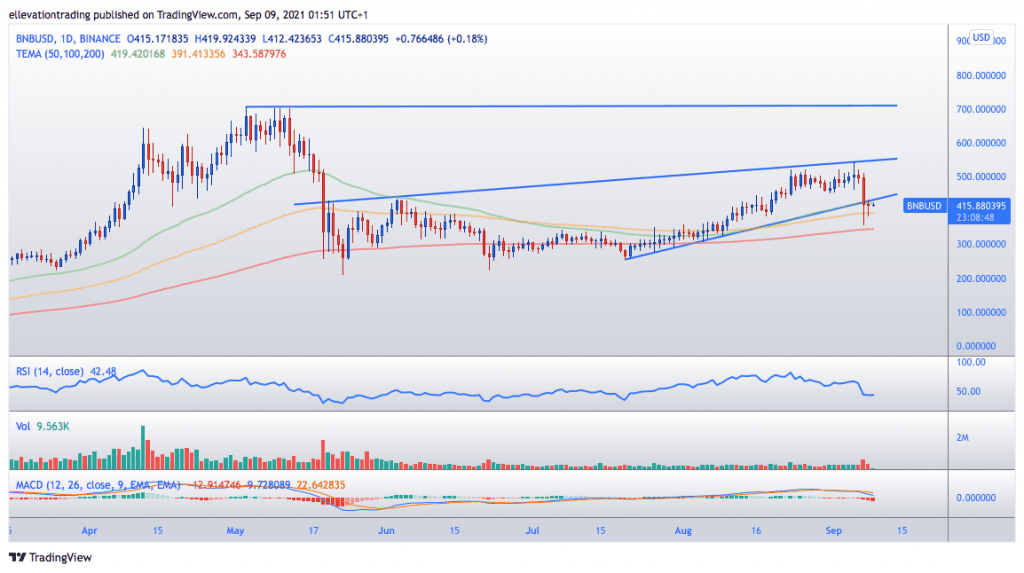 For more market insights, follow Elliott on Twitter.