The Binance Coin price remains pinned between $500 and $550, but macro headwinds pose an immediate threat to BNB.
Binance Coin (BNB) has spent the last week consolidating above the 100-Day Moving Average in a tight range. However, despite the calm, bearish factors are building for the cryptocurrency market, which could weigh heavily on the price. Like many blue-chip digital assets, BNB has retreated from the November high over the last six weeks. Nonetheless, despite the recent weakness, BNB's market cap of approximately $87 billion cements its place as the 3rd-largest cryptocurrency behind Ethereum.
Several potential obstacles for the crypto market have emerged over the last few weeks and will likely persist next year. The obvious threat is that central bank policy will be less accommodative for risk assets in 2022. More immediately, the spread of Omicron and subsequent restrictions could encourage a capital flight from risk assets. Considering this, BNB may face challenging trading conditions, increasing the chances of an extension lower.
BNB Price Forecast
The daily chart shows that the Binance Coin price holds above the 100-Day Moving Average (DMA) at $509.80. As long as that remains the case, the near-term outlook is stable. However, the danger for bulls is BNB closes below the 100-DMA. In that event, an extension towards the 200-DMA at $436.4 looks likely.
The most significant factor for the crypto market is Bitcoin's performance in the next few weeks. Trading volumes will likely traders should brace for wild price action in either direction. On that basis, an upside surprise is possible.
Therefore, whilst my base case for the Binance coin price case is bearish with a $440 price target, a close above $587 (50-DMA) invalidates the view.
Binance Coin price Chart (Daily)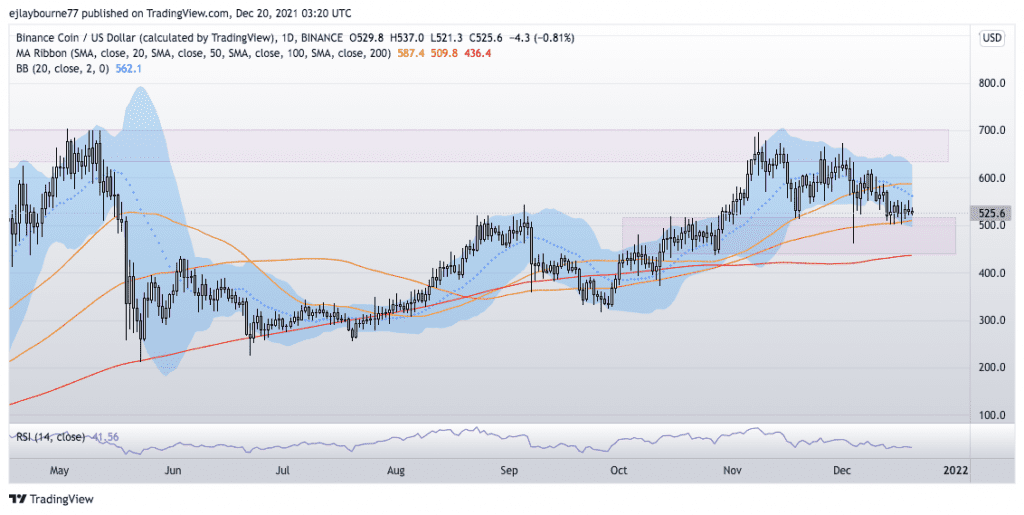 For more market insights, follow Elliott on Twitter.