The Binance Coin price is under pressure on Monday as the native BNB token extends its 7-day loss to -13.5%. Binance Coin (BNB) is changing hands at $566, around 19% below the six-month high set earlier in the month. As a result, BNB's market cap has slipped below the psychological $100 billion mark. Nonetheless, the current $94 valuation firmly cements the exchange token's status as the third-largest cryptocurrency, behind Bitcoin (BTC) and Ethereum (ETH).
Like much of the market, BNB performed at the start of this month. Between the 28th of October and the 9th of November, the price appreciated by 58% to $696, almost equalling the $705 all-time high set in May. However, the market s a whole has corrected over the last two weeks, losing nearly $400 billion in collective market cap. Binance Coin's decline over the previous is broadly in line with BTC and ETH, which have lost 12.6% and 11%, respectively. Furthermore, the price saw a healthy bounce from a significant support level last week, suggesting buyers are looking to take advantage of the dips. As a result, the price respects a two-month uptrend, which could propel BNB back towards $705. However, if the trend falls, a cascade down to $430 is possible.
BNB Technical Outlook
The daily chart shows that a rising trend line aligns with the 50-Day Moving Average to provide robust support at $527. I would consider the uptrend intact as long as BNB remains above the $527 level, which should encourage a return to this months high.
However, if the Binance Coin price closes below trend support on the daily chart, the 100-DMA at $476.5 and horizontal support at $430 are downside targets. Furthermore, the 200-DMA at $419.40 lends additional weight to the $430 support.
Whilst I have concerns about the broader markets prospects, the rising trend is the dominant theme. Therefore, in my opinion, a bearish signal is only activated on a break below the trend. On that basis, my current outlook is neutral-to-bullish, flipping to bearish below $527. However, if BNB breaks down, a recovery of the trend would negate the bearish view.
Binance Coin Price Prediction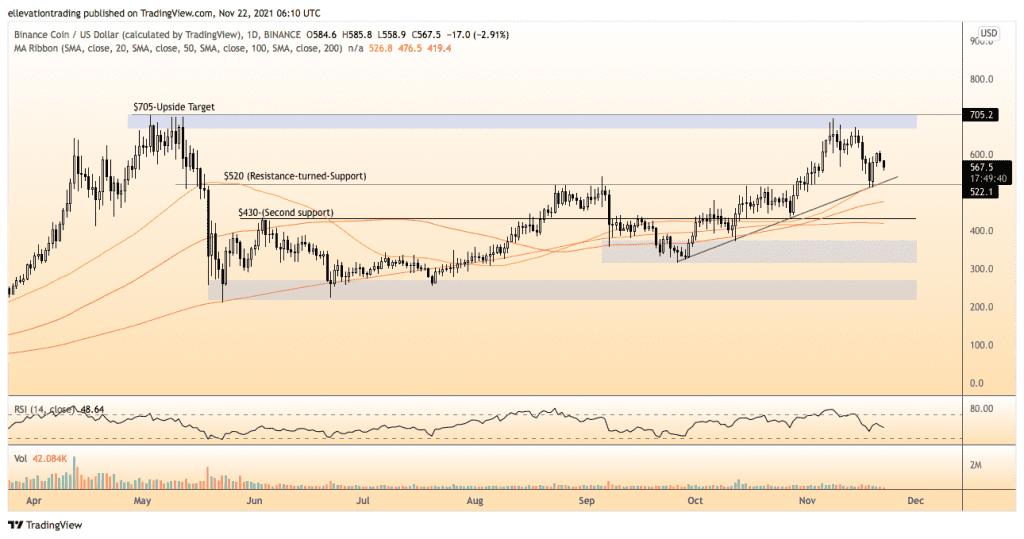 For more market insights, follow Elliott on Twitter.