The Basic Attention Token (BAT) has joined the long list of cryptocurrencies trading at their highest-ever valuation. The BAT Token almost doubled this week, achieving a record price of $1.886 in Asian trading on Friday. In the last two days, a surge of buying has swollen the projects market cap to over $2.5 billion, lifting it to the rank of the 69th most valuable cryptocurrency, behind Stacks.
There doesn't appear to be an obvious catalyst for the recent spike, and it's more likely due to the optimism surrounding the altcoin market. Like earlier in the year, as Bitcoin rolls over, capital floods into smaller coins and tokens, triggering parabolic rallies. The euphoria in the market is causing out-sized gains in many areas, similar to May. However, Basic Attention Token is in Bull mode, and if it closes today's session above $1.700, it could draw in even more buying.
BAT Price Analysis
The daily chart shows BAT blew through two significant resistance levels today, and the most significant is the former all-time high of $1.697. If the price closes above $1.697 today, I expect a parabolic extension above $2.000.
However, the Relative Strength Index of 76.57 indicates the price is overbought, potentially forecasting a reversal. If BAT fails to close above $1.697, it could drop to the next support level around $1,452. But as long as the price remains above $1.452, the outlook is constructive, targeting a new high.
On that basis, a close below $1.452 clouds the immediate picture and invalidates the bullish call.
Basic Attention Token Price Chart (Daily)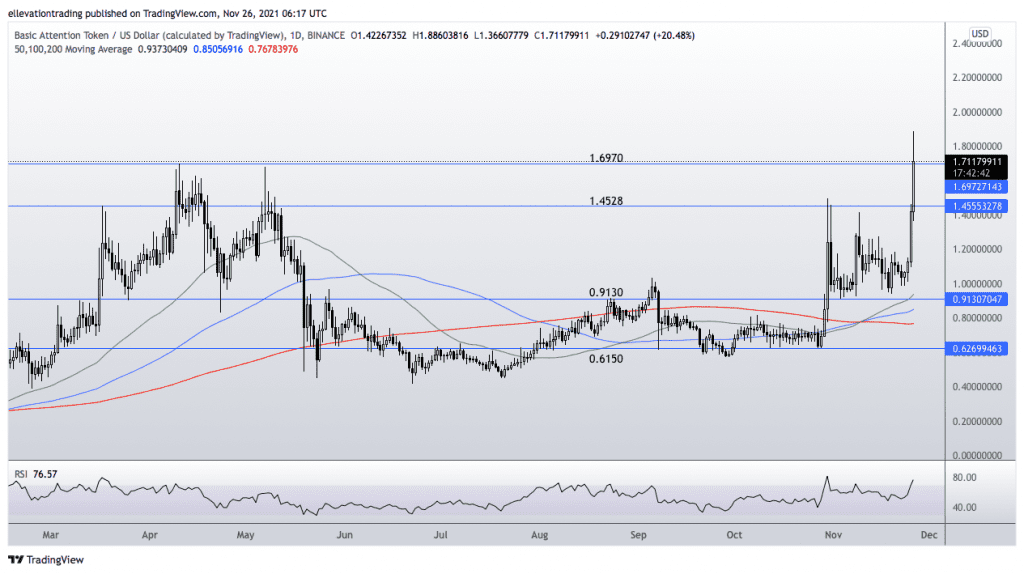 For more market insights, follow Elliott on Twitter.