Basic Attention Token is down almost 30% from last weeks record. In this article, we discuss what that means for the BAT price.
Basic Attention Token (BAT) is slightly softer in early trade on Friday at $1.4610 (-0.65%), down around $0.5650 from the $2.0256 all-time on November 28th. Despite the pullback, BAT is up 120% since the last week of October and 200% above July's low. At the current $2.1 billion valuation, the token is the 71st most-valuable cryptocurrency behind Waves.
In my last BAT report, I laid out a scenario where the price could reach $2.000, which played out perfectly, "If the price closes above $1.697 today, I expect a parabolic extension above $2.000." However, in the same report, I warned of a potential correction, "the Relative Strength Index of 76.57 indicates the price is overbought, potentially forecasting a reversal. If BAT fails to close above $1.697, it could drop to the next support level around $1,452." This morning, the token is grappling with the above support at $1.4520, which could be pivotal for BAT's near-term prospects.
BAT Price Analysis
The daily chart shows the Basic Attention Token is in a corrective phase. In my opinion, whether BAT closes above or below $1.4520 will determine what happens next. If the price fails to maintain the mentioned support, I expect the bearish move to extend towards $1.2770 (mid-point of the Bollinger bands and November 8th high). At the same time, a deeper sell-off would target the $0.9500-$1.0000 range.
On the other hand, if BAT stabilises above $1.4520, I would consider that constructive, potentially leading to the price retesting resistance $1.6970. The bearish scenario appears likelier, taking the current momentum into account. However, it will depend on where the daily candle closes, and for that reason, I will keep an open mind until the close of play today.
Basic Attention Token Price Chart (Daily)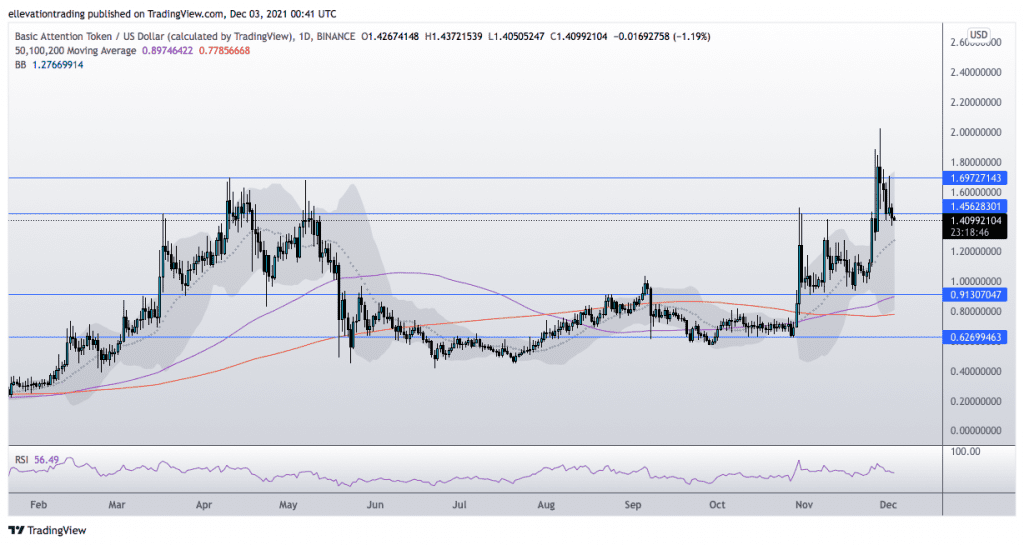 For more market insights, follow Elliott on Twitter.