London blue-chip companies have rallied in the past few days even as the Bank of England (BOE) embraces a more hawkish tone. As a result, the FTSE 100 has risen from £6,756 in March to £7,457. This rally has been broad-based, with financial stocks like Lloyds and Barclays doing well. In the same period, the Aviva share price has mirrored the performance of the FTSE index as it has risen from 360p to 430p. So, is AV still a good stock to buy?
Is AV undervalued?
Aviva stock price has darted higher after the company published strong full-year results earlier this month. The firm generated operating profits of over £1.6 billion in 2021 as its business growth remained steady. As a result, the management announced that they will return over £4.75 billion to shareholders through buybacks and share repurchases. Most importantly, the company had strong guidance as it expects to generate £5.4 billion in cash between 2022 and 2024.
Aviva's share price has risen because the company is relatively cheaper than its peers. In addition, it has a forward dividend yield of 14.5%, which is better than most companies in its industry. This is after the company resumed paying dividends after it suspended them in 2020. However, key metrics like price-to-earnings multiples are lower than comparable companies like Prudential and AIG. Most importantly, as shown below, a DCF model shows that Aviva is about 53.5% undervalued.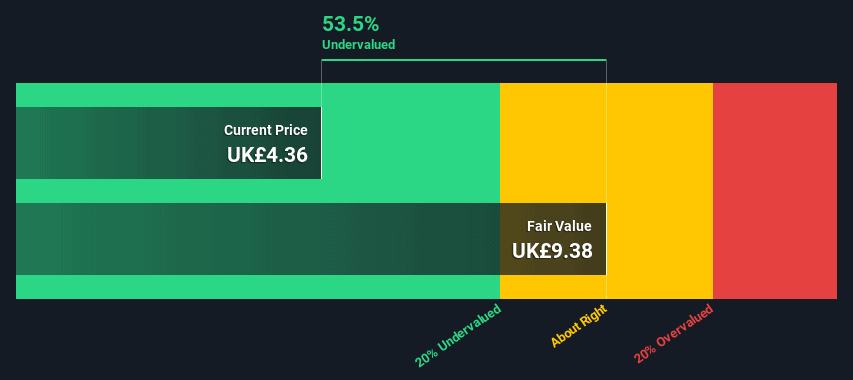 A key concern about Aviva and other UK investment managers is the overall sluggish performance of equities. The FTSE 100 and other key indices in the US like the Dow Jones and Nasdaq 100 have all retreated as central banks rise. There are also concerns about outflows considering that the firm recorded substantial inflows during the pandemic.
Aviva share price forecast
Aviva stock price is slowly approaching its all-time high of 448p as its momentum gains steam. The shares have also managed to move above key resistance levels like 387p and 400p. It has also moved above the Ichimoku cloud, another bullish signal.
Therefore, at this stage, the path of the least resistance for the stock is to the upside, with an initial target being at the ATH of 448p. A clean break above this level will open the possibility of the stock moving to the next key resistance at 500p. That's because it will help to invalidate the double-top pattern that is forming. A drop below 420p will mean that there are still more sellers.