The British insurance giant Aviva (LON: AV) is making headlines amid takeover and acquisition speculations. Aviva share price is up almost 12% from its last month's lows, and the bulls are eyeing a retest of the 435p resistance level. The positive price action is also supported by the strengthening FTSE 100 index.
There has been a massive increase in the trading volume of the Aviva shares in the past few days. This shows an increased investor interest in the stock of the British insurance giant. On Wednesday, the stock rose to fresh weekly highs of 410.6 and was up 0.27% at the time of writing.
LON: AV jumped on Friday as The Guardian reported that a foreign buyer is eyeing a takeover of Aviva plc. The 5.33% surge on Friday can be seen on the daily chart of the stock as the traders stepped over each other to fill their long positions.
However, according to the Deutsche analyst Rhea Shah, Aviva is more likely to be a part of the M&A instead of being an acquisition target. The analyst ruled out a deal for the whole entity calling it 'impossible' due to the recent changes in the business by the management.
According to the top analyst, the company seems to be in a much better position than 4 years ago. Avivai share price is currently retesting its 200 MA, which lies just above 411p. This level may act as a strong resistance.
Aviva Daily Chart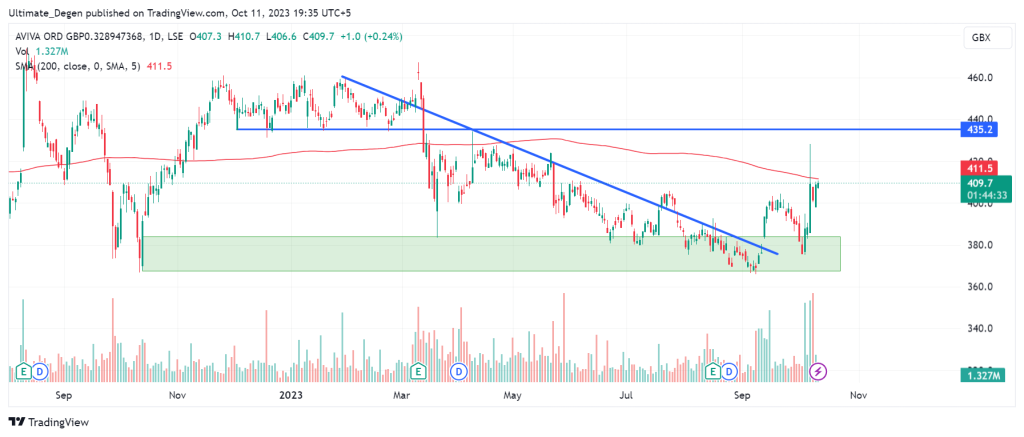 Aviva Share Price Technical Analysis
As mentioned earlier, the recent surge in LON: AV chart is backed by strong volume. If the shares gain strength above the 405p level, I expect a rest of the 435p resistance in the coming weeks. My only concern is the resistance at 411p and the bearish divergences on the RSI at a daily timeframe.
In any case, a breakdown below 405p will make Aviva share price forecast bearish for me. If you've been following my analysis, the current bounce from 37p-385p must not be surprising to you.