In early to mid-December, AVAXUSD tried to step up and formed a new all-time high of $127.45. Since then the AVAX price started to move down. There is an important swing low formed at $98.41 on December 30. After that, the market went up again and formed a major swing high at $117.44 on January 2, 2022.
From $117.44 the price came crashing, and lost almost 32.1% and stopped at a support level of $80.00. The level $80.00 is a key support zone as we can see the price touched it four times previously in early to mid-Dec.
The price from here can see a short-term up move as recently it broke the previous swing high formed at $96.76 on 7th Jan. The price has started to form an ascending triangle which after a successful formation and breakout can move the price higher. The price needs to trade above 91.94 for the ascending triangle pattern to become active.
Also, on the RSI line, we could see the hidden bearish divergence that signifies the market could reverse higher soon. However, traders and investors must wait for extra confirmation such as a break of the $91.94 resistance zone. If the price breaks the R1, it may run till the next resistance zone at $98.42.
AVAX Price Chart, Four-hours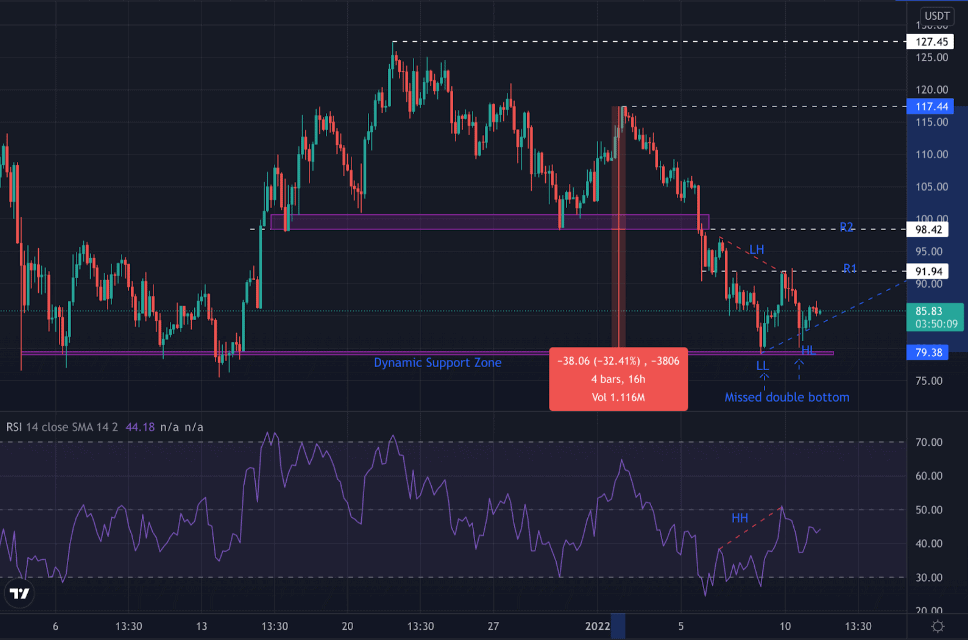 Improvments to the Avalanche ecosystem
Pollen, the DeFi ecosystem on Avalanche, is soon to be launching its governance token PLN on AscendEX, a global crypto exchange in Singapore.
CryptoSlate, in its press release, shared that till now, the governance token PLN was available only on TraderJoe, an very popular Avalanche-based DEX. It excites the Pollen team to share that this was the first time PLN was listed on a centralized exchange.
However, the day also marks itself as the first Avalanche chain token to be ever launched on AscendEX.
What is Avalanche?
The Avalanche is a somewhat new chain in the DeFi space. Its relatively blazingly fast, low cost, & eco-friendly attributes have made it popular among developers.
Compared to Bitcoin, Ethereum, and Polkadot, Avax promises to be the fastest smart contract blockchain in the industry, keeping a transactional throughput of > 4,500 TPS.
In the current bear market situation when almost all of the cryptocurrencies were down, AVAX still managed to hold its ground.