New Zealand's inflation figures provided a stall in the upside price action on the AUD/NZD pair. The consumer inflation (quarterly) reading in New Zealand came in at 1.4%, which was slightly above the 1.3% market consensus, but well below last quarter's reading of 2.2%. On an annualized basis, inflation has risen to 5.9%, the highest level seen in 32 years.
The rise in the annualized inflation rate makes a case for the Reserve Bank of New Zealand (RBNZ) to tighten monetary policy. This puts the RBNZ's 23 February meeting on the market's radar.
Economists at ANZ say that New Zealand's inflation now had "some serious momentum" behind it. This mirrors the situation in several OECD countries where the stimulus packages flooded the economies with cash. While this worked in stabilizing these economies in the pandemic's worst periods, it is now putting pressure on supply chains that are yet to recover from the pandemic's effects.
AUD/NZD Outlook
The daily chart shows a series of pinbar candles at the current price mark, indicating the upside in the AUD/NZD may have stalled. The pair has met resistance at the 1.07277 price mark, with a slight pullback. If the bulls can mount a new challenge that takes out the 1.07277 resistance, 1.08097 becomes the new upside target.
On the flip side, a decline towards the ceiling of the completed rectangle pattern at 1.06430 follows an extension of the pullback. If this price support gives way, 1.05829 becomes the next target (floor of completed rectangle). 1.05201 completes the near-term targets to the south for the pair.
AUD/NZD: 4-hour Chart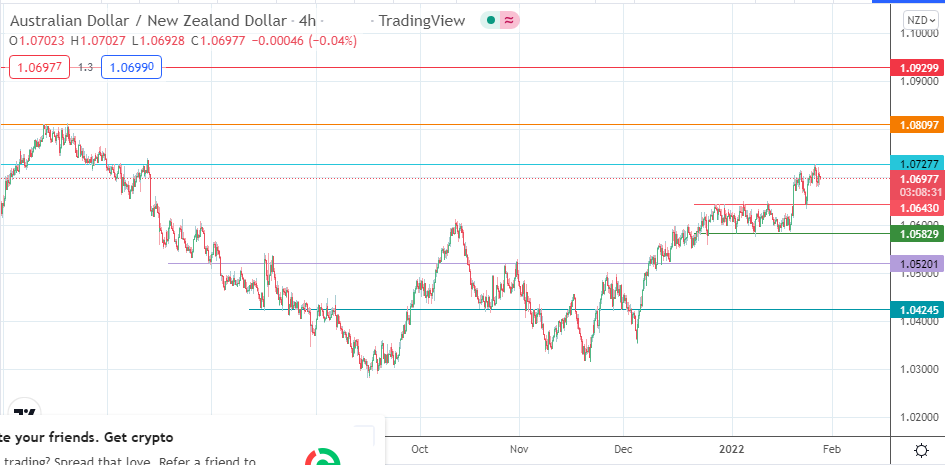 Follow Eno on Twitter.