The Arweave token price hit new highs this Friday as it continues to see investor demand. This follows the nearly 50% rise in prices earlier in the week.
The huge jump in the Arweave share price was preceded by a 1200% increase in the protocol's revenue from the first week of September. This sharp revenue spike came from higher demand on NFT minting on the Solana blockchain. The Solana blockchain uses the Arweave platform for storing its data via the SOLAR (SOLana + ARweave) Bridge.
The Arweave price is up 17% as of writing this Friday.
Arweave Price Prediction
The retreat from intraday highs left the price action testing Thursday's top at 79.8669. A break above this level retests the all-time high set on Friday at 91.000. A break of this level targets the 127.2% Fibonacci extension level at 104.75, with 111.85 (141.4% Fibonacci extension) and 111.85 also serving as potential upside targets.
On the other hand, rejection at 74.62 could lead to a pullback that targets 70.37 initially, before 63.34 and 54.77 serve as additional targets to the south.
Arweave: Daily Chart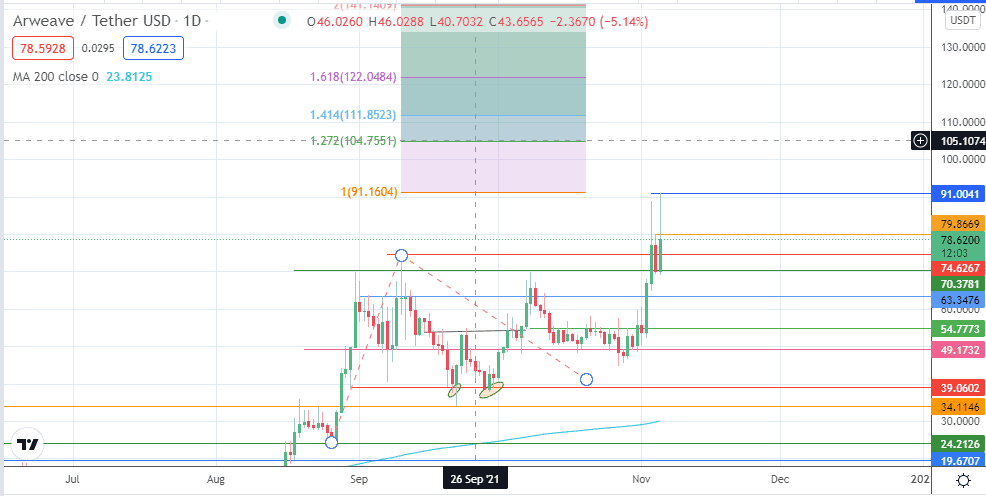 Follow Eno on Twitter.