Amp price prediction for this year is looking very bearish as the price just made a lower low. The price dipped to the $0.024 level on Monday 22nd February. Bears are trying to retest $0.02 support which seems quite likely in ongoing geopolitical unrest. After breaking down from the Head & Shoulders last month, the Amp price chart has been in a severe downtrend. Bulls need to reclaim the $0.06 level in the short term, or things could get really ugly for Amp.
How Amp Works?
Amp is the native cryptocurrency of the Flexa payment system. Flexa aims to allow merchants to accept payments in different cryptocurrencies without any risk of failed transactions. In addition, it achieves instant confirmations by using Amp tokens as collateral. This makes all the retail payments via Flexa fully secured as the retailers don't have to worry about failed transactions.
An equivalent amount of Amp tokens is locked in a smart contract as collateral whenever a user pays a merchant. In case of a failed transaction, the Amp crypto held in the smart contract is liquidated to pay the merchant. In this way, Flexa insures the payment by using staked amp tokens. So the price of Amp is directly correlated with the transaction volume of Flexa. Therefore, assuming a mass adoption of the payment platform in the coming years, our Amp price prediction could be very bullish.
Founders of Flexa
In 2018, Trevor Filter, Tyler Spalding, Zachery Kilgore, and Daniel McCabe registered the company Flexa in Ney York. As the company is located in New York, it is also bound to the state's strict fintech regulations.
Since its inception, Tyler Spalding has been acting as the CEO and the face of Flexa. The payment protocol intends to enhance the mass adoption of crypto by allowing merchants to accept all cryptocurrencies. Before moving on to our Amp crypto price prediction for the coming years, let's look at the project history and its roadmap.
History of Flexa and Amp
Flexa team raised the capital for the payment protocol in3 funding rounds. The first round closed in 2018, followed by another 2 rounds in 2019. The last round ended in April 2019, raising $14.1 million. It also included funding from industry giants like Pantera Capital, 1kx, Nima Capital, and Access Ventures.
The initial native token of the Flexa payment system was known as Flexacoin. However, due to regulatory and technical issues, the team launched Amp coin in 2020. Flexacoin (FXC) holders were asked to convert their Flexacoins for Amp at a 1:1 ratio. Amp price is $0.026 at the time of writing.
Latest Amp Coin News & Roadmap
According to official Amp crypto news, more than 40,000 merchants in US and Canada are accepting payments via Flexa. This number is constantly increasing as the team integrates more and more merchants every month. In addition, Dapp Radar is showing a locked TVL of $739 million on Flexa. This massive TVL is due to the staked Amp on the platform.

The Total Locked Value (TVL) will play a vital role in our Amp price prediction for coming years. This is because a greater staked value means more Amp is available to be used as collateral. Therefore, if Flexa wishes to become the global leader in payments, its TVL should increase massively. Nevertheless, the platform's TVL is 10% down from last week due to ongoing turbulence in the markets.
Amp Price Prediction 2022
The native asset of Flexa, Amp, is currently trading at $0.026. It is around 79% down from its June 2021 all-time high of $0.12. In a brutal start of the year for crypto, Amp price broke its key support of $0.04 in January 2022. The breach of this support has further intensified the downtrend. The price has also broken down below the head & shoulders neckline. All this sell pressure is giving a very bearish Amp price prediction for 2022.
On 24th January 2021, Amp's crypto price hit the $0.0255 level and bounced up. The price increased by 50% from this low but faced rejection from the $0.037 level. If Amp makes another lower low this year, then the price is expected to test the $0.02 region. If the $0.02 level fails to hold, the price could plummet below $0.01. Although this Amp crypto price prediction 2022 appears to be a nightmare for bulls, it's still a possibility.
For a bullish scenario, the Bulls must reclaim $0.04 sooner rather than later. The next task for the bulls would be to break out of the downtrend that started in June last year. The bulls may target the $0.085 level to make a higher high if this happens. If all these things align, Amp price could target another all-time high. The price level of $0.18 looks like a feasible target as it matches the 1.618 Fib level of June 2021 highs and January 2022 lows.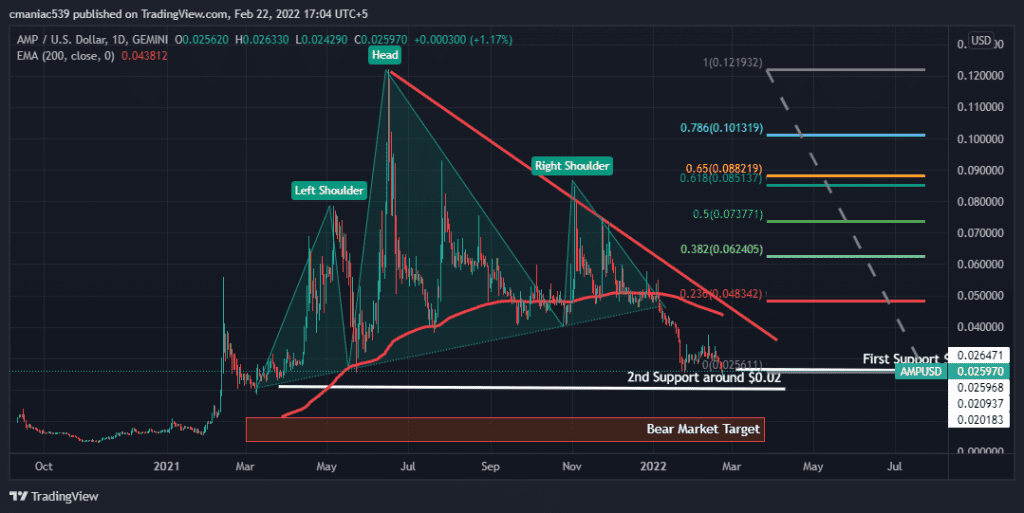 Amp Price Prediction 2025
It is too hard to predict the macroeconomic and geopolitical situation of 2025. After massive money printing in the last 2 years, fears of quantitative tightening are already rooming. The rise of interest rates could make many big investors reduce their risk by cutting down their crypto exposure. This might send the crypto market as a whole into a multi-year bear market. Nevertheless, by considering the Amp price from the AMPBTC price chart, we can take a shot at Amp price prediction 2025.
Crypto might plunge into a bear market soon due to the bearish Fed news. However, many analysts are still confident that we may see another bull market by 2025. Stock to Flow Model of Bitcoin price also predicts a massively bullish BTC price target of $1 million by 2025. The current value of 100 EMA of AMPBTC daily chart is 0.00000109 BTC. Multiplying it to the $1 million price target for Bitcoin gives us an Amp price of $1.09 by 2025. This could only be possible if Flexa gets a wide adoption by expanding across several more countries. Meanwhile, if the platform fails to gain traction, this price prediction could quickly go out of the window.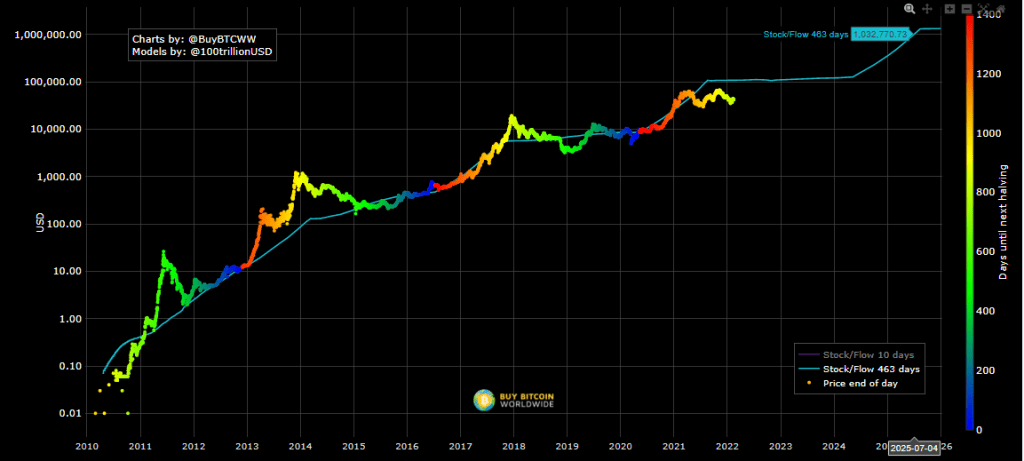 Amp Price Prediction 2030
By 2030, Amp's circulating supply would have increased a lot to 60.7 billion coins. This huge circulating supply might make it very difficult for Amp price to grow rapidly. However, even a $1 Amp gives us a $60.7 billion market cap at this supply. This puts it in the top 5 cryptocurrencies at current prices.
The current market cap of PayPal is $132.95 billion. Considering Amp coin in 2030 to be sitting at $132.95 market cap gives us Amp price prediction 2030 of $2. However, there are a few problems with this prediction. First, Amp is a crypto token, while PayPal stock is equity. Secondly, Flexa Team would need to pull something incredible out of their hat to beat PayPal by 2030.
Is It a Good Investment?
Currently, Amp is the 81st biggest cryptocurrency with a market cap of $1.4 billion. The circulating supply isn't too low either, i.e. $48 million. Such a huge market cap makes it very difficult for Amp to generate 10x returns from here in the short term.
Some investors might be confident about Flexa's fundamentals and consider it the PayPal of crypto. If that's the case, then Amp could become a long-term hold. A higher-high at weekly timeframe might be a good long-term entry point.
How to Buy Amp?
Amp really became one of the most sought-after cryptocurrencies in 2021. The native asset of Flexa was also listed on Coinbase last year which made it available to US citizens. Amp is also available on other top exchanges like Binance, Gemini, and Poloniex. Depending on the jurisdiction and regulations, several Amp pairs are available on these exchanges.