Any potential AMP price predictions for recovery following yesterday's 4.01% uptick appear to have been dashed as the sellers took control of the crypto market this Thursday. The AMP/USDT pair is down 3.20% as of writing, as the bears pile more pressure on the asset, which has taken a beating for the more significant part of the last three months.
A broader look at the daily chart shows that the price has more or less consolidated between 0.03401 (ceiling) and 0.02401 (floor) since late January. This consolidation comes after the downtrend that kicked off soon after the asset's listing on Binance on 23 November 2021.
Technically speaking, the price activity is expected to resume the downtrend following the end of the consolidation. This appears to be the valid AMP price prediction going forward unless the bulls can engineer something dramatic in the coming weeks.
AMP Price Prediction
The active daily candle has dropped back below the 0.02575 price level following Wednesday's violation, thus preserving the sanctity of that resistance barrier. The bears now need to force the momentum for price activity to attain the 0.02401 support (22 January/7 March lows). A breakdown of this support opens the door for AMP to attain the all-time low at 0.02144 (24 February 2022).
On the flip side, the bulls need to breach the 0.02575 resistance to clear the way towards 0.02797. A further advance is required for the highs seen on 28 February/1 March 2022 at 0.02943 to come into the picture. The 5/17 February highs at 0.03239 become the new targets to the north if the advance is more pronounced.
AMP/USDT: Daily Chart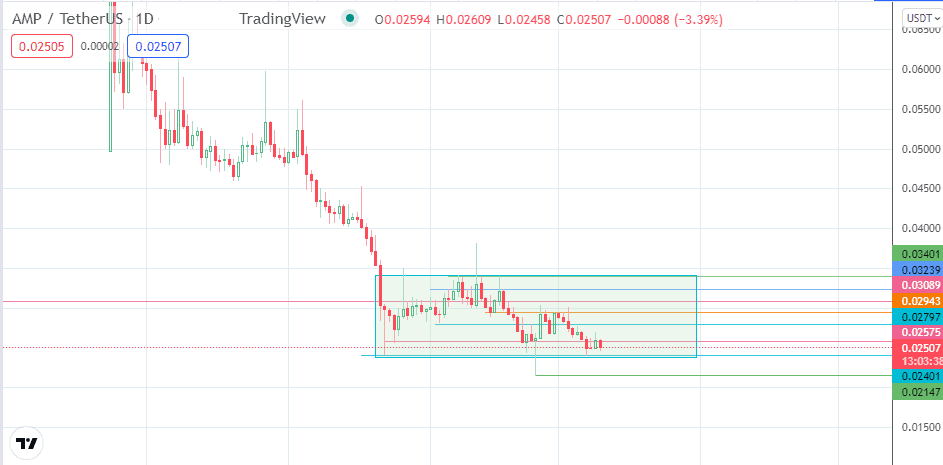 Follow Eno on Twitter.