The AMGO share price forecast, which had predicted a selloff based on the emerging descending triangle pattern, failed to play out as expected. This is because sellers failed to win the battle of grits that continues to play out between the bulls and the bears. The even match between both sets of market players leaves the AMGO stock price range-bound.
Last week, the AMGO stock price got a slight boost after the UK's Financial Conduct Authority acknowledged a significant improvement in the company's amended scheme proposal with its credits. However, the FCA did not hold the relevant sanction hearings for these schemes.
An additional sanction hearing is slated for 23/24 May 2022. The stock added 17.28% on that day (11 March) but failed to break out of the defined range of the stock's trading activity. A further rejection the next day retained the stock's consolidation status.
Since then, there has been no significant fundamental trigger for price movements, leaving no direction on which to base AMGO stock price forecasts. However, despite the 2.76% gain on the day, the AMGO stock price forecast remains negative, as the consensus price target set by institutional analysts over 12 months is 4.345p.
AMGO Share Price Forecasts
The previously identified descending triangle did not play out as expected as the price continued to trade sideways beyond the point of convergence of the trendlines. This leaves the price range-bound, with the range's ceiling at 6.01 and the floor at 4.33.
The bulls need to force the price action above the 5.46 resistance (29 March and 5/19 April highs) to target the ceiling at 6.01 (28 March and 11 April highs). Only when the ceiling is broken can the price aim for additional upside targets at 6.48 (11 March high) and 7.00 (16 March high).
On the flip side, rejection at 5.46 allows for a pullback that must take out the 5.10 support (14 January and 20 April lows) to bring the range's floor at 4.33 into focus. Only when the floor is degraded can the bears aim for potential harvest points at 3.46 (25 February and 1 March highs in role reversal) and 2.69 (7 March low). An additional downside target also lies at 2.02.
AMGO: 4-hour Chart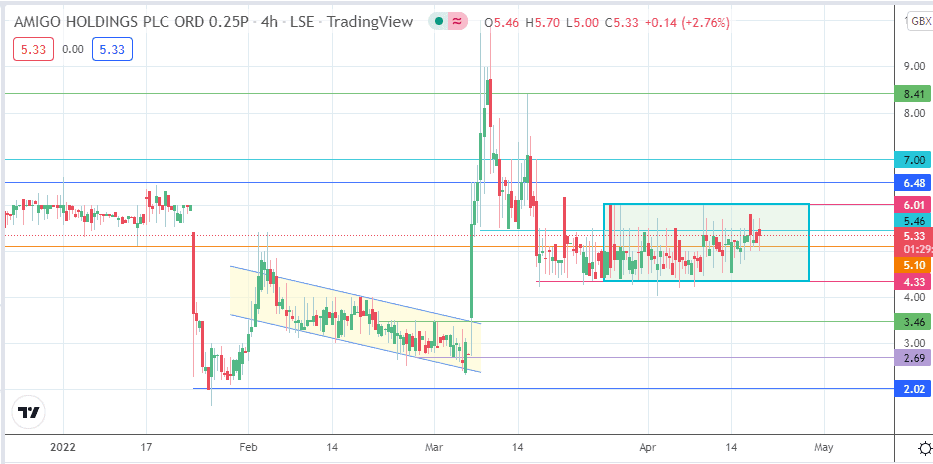 Follow Eno on Twitter.