Respite for the stock seen in the 3rd quarter has quickly given way to panic and more selling in the 4th quarter, as many countries set new restrictions to gatherings such as movie theatres. AMC Entertainment has seen some uptick on the day, as it is giving away a free NFT to AMC Investor Connect members.
First announced on Monday, the new NFTs from the largest movie theatre company worldwide will be available for free to shareholders and will feature the "I Own AMC" catchline. The NFTs will be sold on the WAX Blockchain. AMC expects to earn a small royalty fee on every buy and sell transaction on the NFTs.
The 5.42% uptick seen on Tuesday as of writing is primarily due to demand from those wishing to partake of the offer, but demand remains weak.
AMC Share Price Outlook
A penetration close above the 29.80 price mark secures this area as a pivot on which bulls can push towards the floor of the resolved rectangle pattern at 34.75. Above this level, the rectangle's ceiling at 43.08 forms an additional target, with 47.88 coming into the picture after that if the recovery move is strong enough.
On the other hand, a decline towards 24.19 looks certain if the bulls fail to defend the support at 29.80. 24.19 and 20.08 are additional pivots to the south if the decline continues. 
AMC: Daily Chart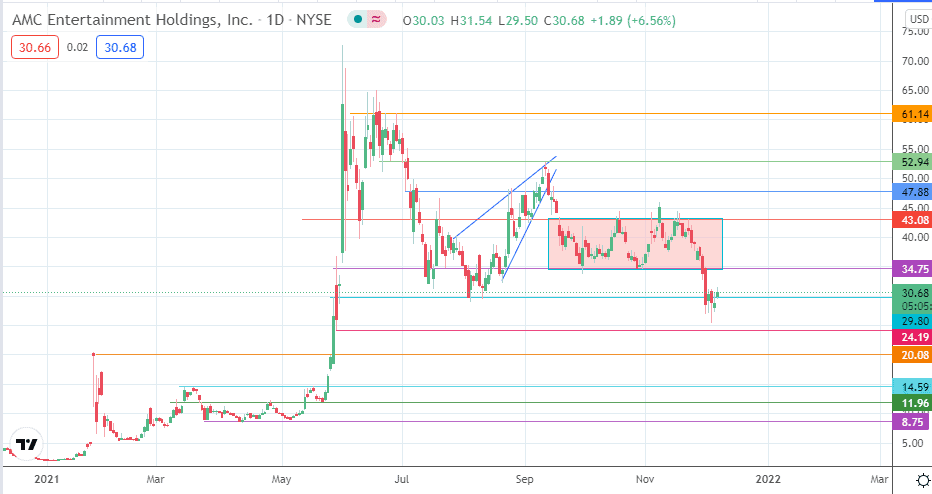 Follow Eno on Twitter.