After a strong upwards rally, Amazon (NASDAQ: AMZN) stock price plunged for the 6thconsecutive day after the US Federal Reserve announced a pause in rate hikes. The chart also reveals that the price broke below the longterm upward trendline. The shares of the e-commerce website are trading at $130.56 today, down 3.48% till press time.
On Wednesday, the US Federal Reserve announced the anticipated pause in rate hikes. However, the FOMC conference put another rate hike in 2023 on the cards in case the inflation does not cool down. As a result, US indices like the NASDAQ 100 index lost 174 points while the S&P 500 index and Dow Jones index declined by 1.08% and 0.55% respectively.
Amazon Stock Price Gains A Bearish Outlook
The daily chart of NASDAQ: AMZN shows the price perfectly hitting my $146 price target before suffering a 10.2% correction. The chart also reveals that the stock has dipped below the downward trendline which it has been respecting since January 2023.
The Amazon Stock Price Forecast is looking bearish after making a lower low on the daily chart. I expect the price to retest the $126.3 support level which was the July lows. However, for a bullish outlook, the price must reclaim the $146.5 resistance level.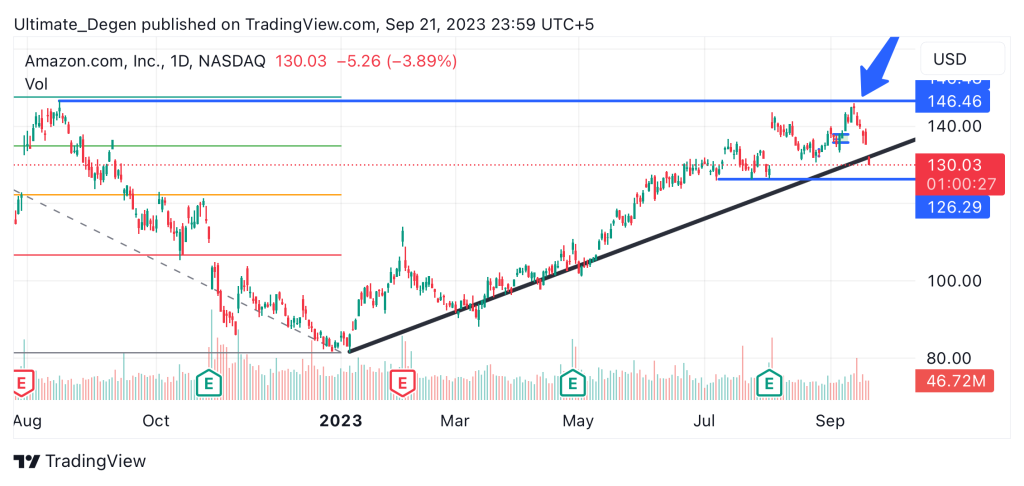 Amazon Cancels Implementation of 2% fee on Merchants
Amazon has reversed its decision to implement the 2% fee on merchants that do not use their shipping services. This move has been criticized by the merchants this decision amid the filing of an antitrust case against Amazon by the Federal Trade Commission (FTC).
Institutional Investors Own 47.1% Of Amazon Shares
According to TipRanks, 43.2% stake in Amazon is owned by individual investors while 47.1% is owned by institutional investors. The remaining 9.68% is owned by Insiders. The fintech website also showed that 119 hedge funds have decreased their shares in Amazon by 8.2 million shares. Amazon stock price is currently trading 10.4% below their yearly high.
In the meantime, I'll keep sharing updated my personal trades on my Twitter, where you are welcome to follow me.