Alibaba stock price continues its bearish price movement after making a lower high in September 2023. The stock of the Chinese e-commerce giant has since plummeted 12% and is currently retesting the June lows for support. On Friday, Alibaba stock is changing hands at $84.48 and is 0.94% on the daily chart.
This week has not been great for the global equities market, as the benchmark indices tanked over the prolonged tightening concerns. The interest rates in the US are now expected to remain high for a long time. As a result, Wall Street indices plunged to new monthly lows. The Nasdaq 100 index is sitting 6.4% below its last monthly high, while the S&P500 index plummeted 7% since its August highs.
Alibaba In Hot Water Over Spying Suspicions
All eyes are on Alibaba after the Belgium intelligence service raised its monitoring of the Chinese retailer's activity. The intelligence agency will now focus on the sensitive data collected through Alibaba's software. This move comes amid an investigation into possible spying activities carried out by the Chinese companies in Europe.
Alibaba is also in the midst of a restructuring of its entire empire. Earlier in March, the Chinese tech giant expressed its intention to segment its operations into 6 groups. These groups would comprise of e-commerce, cloud computing, local services, global digital business, logistics, and digital entertainment.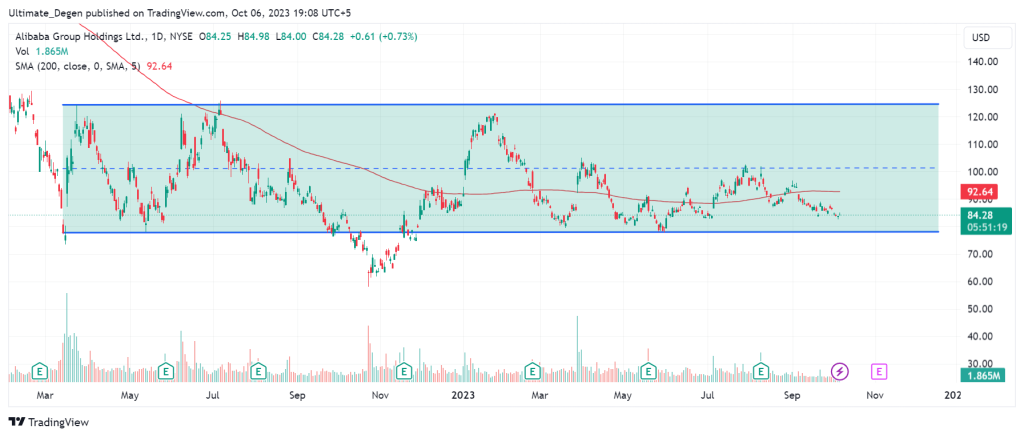 Alibaba Stock Price Technical Analysis
Due to a correction in the US stock market, NYSE: BABA is also facing decreased investor interest. The price has plummeted 18.5% after receiving a rejection from the middle of the long-term trading range. Additionally, the shares of the Chinese e-commerce website also broke under the 200 MA.
In the coming days, I expect the bears to target the 78$ range low. However, after the fulfillment of this bearish forecast, there is a strong chance of a bounce from the $78 due to a bullish divergence in the RSI and the Money Flow Index on the daily time frame. But in the near term, the outlook of the stock remains bearish.