If the falling wedge on the daily chart plays out as expected, Algorand price prediction patterns in the coming weeks may assume a bullish dimension. The Algorand Foundation is working on reducing the carbon footprint of its blockchain, and developers who want speed and low environmental impact may just have to take note of the new upgrade recently performed by the Algorand Foundation.
Algorand latest news
Algorand recently performed a network upgrade to expand the functionality of its smart contracts. The network released post-quantum secure Falcon Keys as part of the upgrade, boosting its trustless cross-chain interoperability. These Falcon Keys will form part of the new Algorand blockchain infrastructure known as State Proofs. This new infrastructure enhances the accessibility of the Algorand blockchain using devices such as smartwatches and smartphones. 
It is not surprising that entities like Limewire are turning to Algorand as its blockchain of choice to host its new token, due for release later in the year. Algorand will also serve as the blockchain to host its relaunched, music-centered NFT platform. An easy-to-use minting marketplace is a theme behind Limewire's NFT marketplace. Limewire believes that Algorand will enable it to develop a less-tedious and more user-friendly NFT platform.
Pricewise, the ALGO/USDT pair is testing a critical support level. The outcome of this test will determine if there will be a bullish reversal from the falling wedge pattern on the daily chart or a downside continuation of the prevailing downtrend.
Algorand Price Prediction
The daily chart shows the evolving falling wedge pattern, with the support's price at 0.6760. There are two possibilities at this juncture. The first is that the bulls could initiate a bounce on the current support, which breaks the upper boundary of the wedge and completes it. This scenario opens the door for a measured breakout move that targets completion at 0.9181 (26 July 2021 and 19 February 2022 highs). To get there, this breakout move must uncap the 0.7829 resistance barrier (17 July 2021 low and 10 March 2022 high). A further extension of the measured move brings 1.0704 into the mix, with 1.2122 becoming viable if this extension continues in a northbound direction.
Conversely, there is the potential for the bulls to leave the 0.6760 support undefended, which brings 0.5942 into the picture as the immediate downside target. Additional support is seen at 0.5142, and if the bulls cannot defend this support as well, then a descent towards 0.3915 (13 January 2021 low) appears inevitable. This scenario also means that the wedge pattern is invalidated.
ALGO/USDT: Daily Chart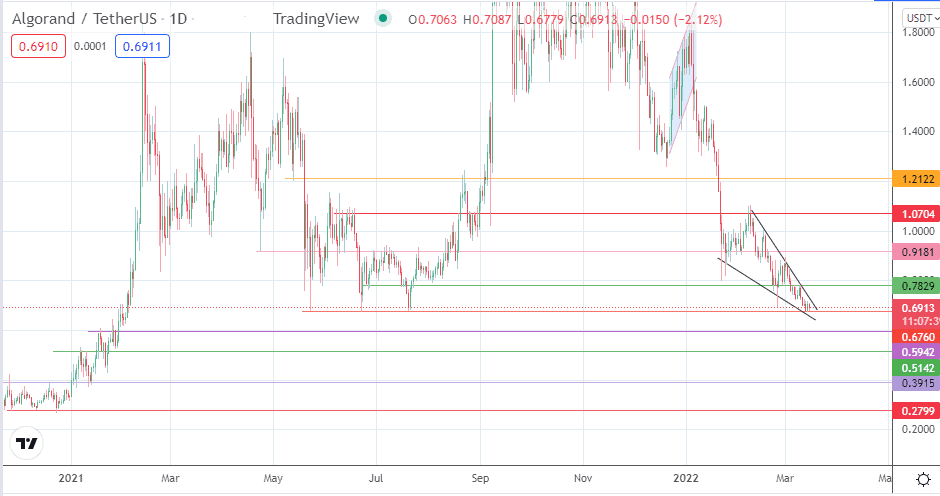 Follow Eno on Twitter.