If Tuesday's crypto market bloodbath was to be considered, nobody could have made a successful Algorand price prediction for Wednesday. But the ALGO/USD pair has defied all odds and made a startling jump, notching up 30.9% as of writing.
The pair had been up by as much as 45% on the day. However, an intraday pullback has allowed for a retracement towards the 1.6785 price mark. Trading volume surged to more than $560 million, making the Algo/USDT pair the 18th most traded pair by 24-hour volume.
The move also means that Algo has exceeded its May 2021 highs, as the company welcomes Aorist, a cultural NFT marketplace, to its network.
Algorand Price Prediction Outlook
The immediate support lies at 1.6030. A bounce from here allows the price to retest the 1.7966 price mark. A price advance beyond this level targeting the 1.9127 price level.
On the flip side, a breakdown of 1.6030 allows the pair to dip towards 1.4930. Subsequent targets to the south lie at 1.2686 and 1.1586 (multiple highs seen on 21 May, 3 June and 24 August).
Algorand (ALGO/USDT) Daily Chart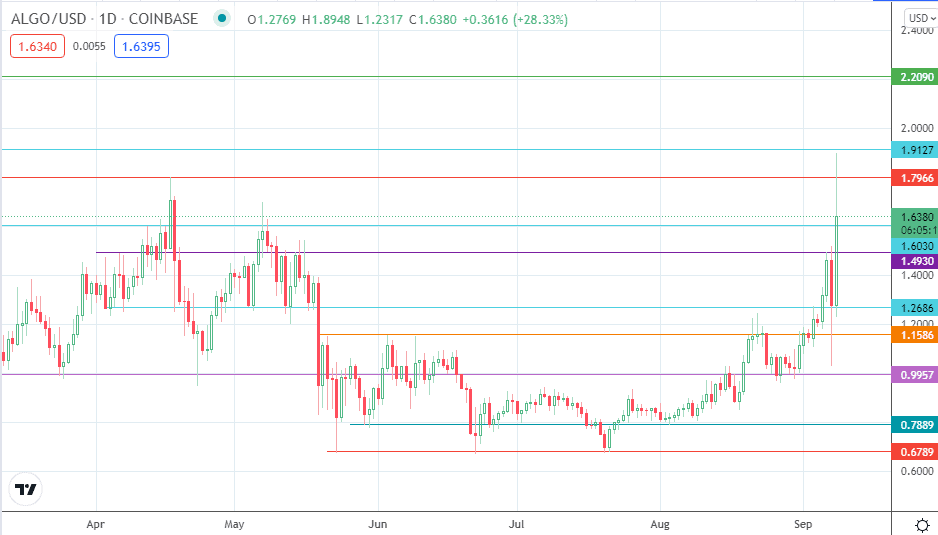 Follow Eno on Twitter.