The Algorand price has retreated around 16% from Monday's high as it tracks back towards the safety of trend line support.
Algorand (ALGO) is treading water at $1.67 (-1.00%) on Wednesday as the cryptocurrency digests the magnitude of the recent volatility. Despite the weakness, ALGO has improved by 35% from Saturday's low, lifting its market cap back to $10.58 billion, cementing its place as the 20th most-valuable cryptocurrency behind Uniswap.
Similar to most cryptos, Algorand is likely to remain in a state of flux while Bitcoin grapples with the psychological $50k level. This morning, the market leader is trading almost bang on the number (last $50,100), creating uncertainty across the complex. However, BTC is unlikely to hang around at the current price for long. In my opinion, volatility could return with a bang in the coming sessions, triggering extreme Algorand price action.
ALGO Price Forecast
The daily chart shows a rising trend line and series of lows support the Algorand price between $1.55 and $1.60. As long as the token respects the confluent support, the price should remain stable. However, a close below the trend could spark a sell-off similar to seen at the weekend. In that event, the 200-Day Moving Average at $1.36 and Saturday's low of $1.22 are logical targets.
On the other hand, if Bitcoin turns higher, calm should return to the market as a whole. If that proves true, many of the longs liquidated over the weekend may jump back in. And if ALGO clears the 100-DMA at $1.80, it could advance towards the December 1st high at $1.06.
For now, although I am leaning towards a bearish outcome, my current view is neutral, awaiting confirmation.
Algorand Price Chart (Daily)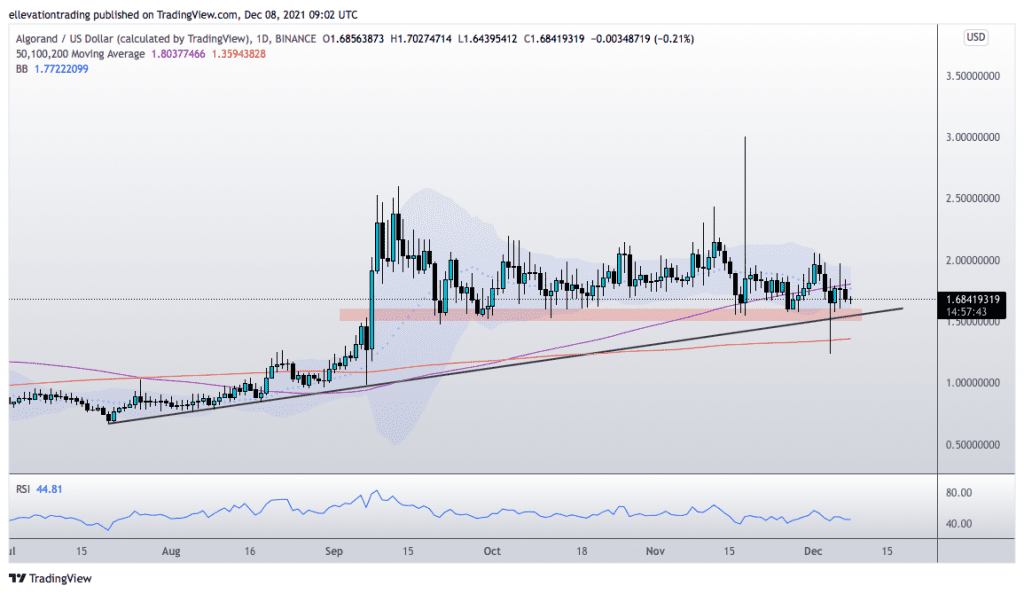 For more market insights, follow Elliott on Twitter.