The Aave price has run into a good technical support area, which may signal a buying opportunity. That is if a crypto market meltdown has been averted. Tuesday's brutal price action wiped 15% from Aave (AAVE/USD) in its worst one-day performance since June. However, it could have been much worse for the DeFi leader. At the depths of the selloff, Aave had broken down below the major moving averages and fallen out of its uptrend. Fortunately, a late-day rally halved the 30% intra-day loss, recovering both the uptrend and the 200-day moving average.
Of course, this week's sharp declines have much less to do with Aave and more to do with Bitcoin's (BTC/USD) launch as legal tender in El-Salvador. It appears that substantial longs offloaded positions built up ahead of the historic day into the wave of euphoric retail buying that had lifted BTC to $52,920, its highest price since May. The selling was fairly orderly until BTC lost the $50k threshold, at which stage, it cratered to $42,843 for an almost perfect $10,000 peak to trough slide. This sent shockwaves across the market, and many altcoins suffered severe drawdowns of over 50%. As a result, Aave followed the market lower. However, despite the losses, the outlook is still positive for now.
AAVE/USD Technical Analysis
Looking at the daily chart, we see the Aave price has been trending higher for the last seven weeks in a rising parallel channel. Tuesday's slide pierced the lower end of the channel at $296. However, AAVE has since reclaimed the trend, and therefore the line, now at $303, is reinstated as support.
Ahead of the trend line, the 200-day moving average lends additional support at $326. presently, Aave is trading at $334 and holding above the 200 DMA. This is critical for a sustained recovery. If the price fails to hold the 200-day on a closing basis, it would suggest the rally has faltered. This would undoubtedly lead to a retest of trend support. Furthermore, if the trend cannot hold for a second time, the price could succumb to a material decline. Therefore, today's trading session could be pivotal. If the Aave price finishes the day above $326, it should advance to the top end of the rising channel at $493. If not, the downside should prevail.
Aave price Chart (daily)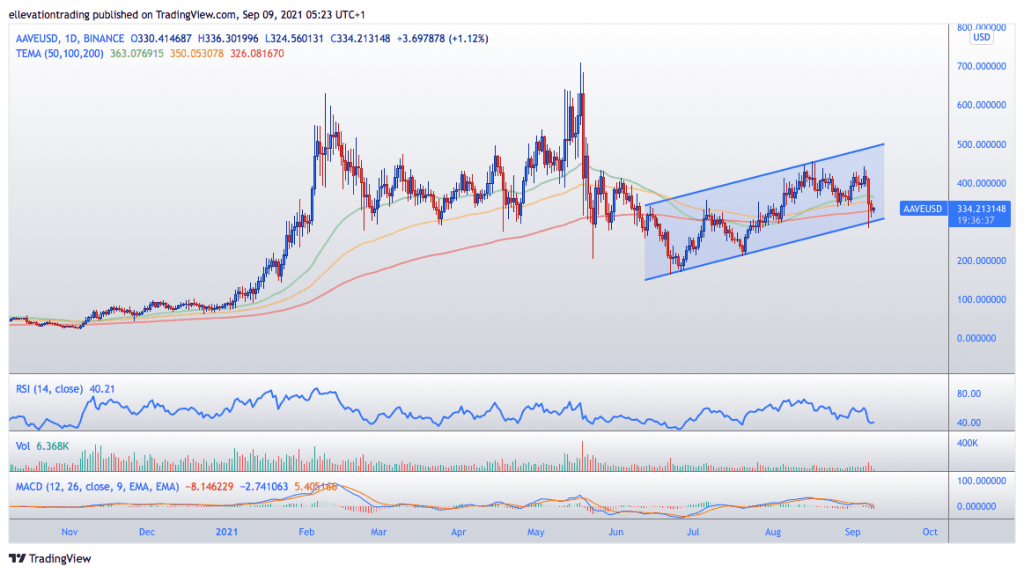 For more market insights, follow Elliott on Twitter.