Shiba Inu price has lost the golden touch it had a few months ago when it was launched. The SHIB token was trading at $0.0000087 in the second week of 2023, which was a few points above its all-time low of $0.0000070. This price was about 90% below its all-time high of $0.000089. Other popular meme coins like Floki Inu, Saudi Shiba Inu, and Dogelon Mars have all plunged hard. So, what is the outlook of Shiba Inu in 2023, 2025, and 2030?
What is Shiba Inu?
Shiba Inu is a meme coin that was established in 2021 as cryptocurrencies were surging. The token was created after being inspired by the success of Dogecoin, the biggest meme coin in the world. Investors bought Shiba Inu at the time because it positioned itself as the best alternative to Dogecoin. At its peak, Shiba Inu was the most popular cryptocurrency in social media.
Shiba Inu has grown over the years. It has moved from just a meme coin to a broad ecosystem made up of several key parts. For one, the developers launched other crypto coins like BONE and LEASH that have different tokenomics. It has also launched its metaverse platform where people can interact virtually. Further, Shiba Inu launched ShibaSwap, a DeFi platform where people can swap tokens.
Who is Shiba Inu founder Ryoshi?
Like many other blockchain projects, Shiba Inu's founder is not known. The only known thing is that he is known as Ryoshi. Like Satoshi Nakamoto, Ryoshi disappeared from the public and deleted his social media presence in 2021. It is not clear why he did that. Still, unlike Bitcoin, Shiba Inu has an active Twitter page. Some analysts believe that Ryoshi is usually one of the people who manages it. Nothing else is known about Ryoshi. Details like his real name and location are not known.
Shiba Inu latest news
The most recent Shiba Inu news is that the developers are working on a new blockchain known as Shibarium. Developers believe that Shibarium will be the next big thing in the ecosystem. For starters, Shiba Inu is an Ethereum token, which means that interacting with it can be a bit expensive. Therefore, Shibarium will be a blockchain that will play an important role in Shiba Inu's growth. It will help the network grow by lowering transaction costs and boosting its speeds.
The other important Shiba Inu news is that the network is looking forward to launching the first Metaverse Media Submission. In it, the developers are seeking feedback from its metaverse users on their biggest projects.
Meanwhile, like other cryptocurrencies, SHIB price is reacting to the broad macro issues. The collapse of FTX and Alameda Research has had a major impact on the network. Also, its price is reacting to the latest economic data from the United States. Inflation is falling, which could see the Fed start slowing its interest rate hikes.
Shiba Inu live chart
The chart below shows the current price of Shiba Inu. 
Shiba Inu chart by TradingView
Shiba Inu coin burn
Burning is an important concept in the blockchain industry. It refers to the process of reducing the total supply of a cryptocurrency token by locking it in a wallet that can never be opened. Burning plays the important role of reducing supply and thus boosting its price. Without burning, coins like Shiba Inu would have too much supply, which would devalue them.
According to Shiba Burn Tracker, over 999 trillion Shiba Inu coins have been created over the years. In the same period, oer 410 trillion tokens have been burnt. This means that 41% of all tokens ever created have been burned. The website states that burning Shiba Tokens is done by doing simple things like playing some mobile games, visiting some websites, and even sending tokens to a dead wallet.

Shiba Inu coin Elon Musk
Elon Musk is often known as the grand-daddy of meme coins. As the world's wealthiest man, Musk played the most important role in making Dogecoin mainstream. By endorsing and investing in it, he dragged more people to the ecosystem.
As such, there are speculations about whether he has invested in Shiba Inu. This speculation rose when he sent a cryptic tweet about his dog. However, he later clarified that he had not invested in Shiba Inu and other meme coins.
Is Shiba Inu a good investment?
We believe that Shiba Inu and other meme tokens are not good investments. For one, the token does not create any value or solve a real problem. In fact, people who invested in Shiba Inu have seen their cash evaporate by over 90%. Instead, we believe that SHIB is good only as a trading asset where you buy and sell it within a few minutes or days.
Will Shiba Inu price go up?
A common question is whether the SHIB price will go up. The honest answer is that this will depend on the performance of cryptocurrencies and tech stocks. A pivot by the Federal Reserve will likely lead to a strong recovery of the coin. If this happens, then we will see the coin rise. Another possible catalyst for SHIB price will be the upcoming Shibarium launch.
How to invest in Shiba Inu
It is relatively easy to buy Shiba Inu. You should simply create an account with one of the leading exchanges like Coinbase and Binance, deposit your funds, and then buy the token. Another option is to buy Shiba Inu as a Contracts for Difference (CFD). A CFD is a financial derivative that involves betting whether a financial asset will rise or fall. You will then pay the CFD broker the difference. Examples of popular forex and CFD brokers with Shiba Inu are ATFX and eToro.
How to mine Shiba Inu Coin
Shiba Inu is a token on Ethereum's mainnet. Therefore, it is impossible to mine the token. Anyone who tells you that you can mine Shiba Inu is a liar. If you are interested in mining the coin, we suggest mining other popular coins like Nervos Network, Kadena, and Ravencoin.
Shiba Inu coin price prediction 2023
2022 was a difficult year for Shiba Inu and other cryptocurrencies as interest rates surged and crypto implosions like FTX and Terra continued. So, will 2023 be any better? An analysis by Wallet Investor suggests that SHIB price will crash to $0.00000052 in 2023. Another report by Long Forecast suggested that Shiba Inu price will also continue falling in 2023.
SHIB's price will depend on the actions of the Fed and how the economy evolves. A Fed pivot will be a positive catalyst for Shiba Inu prices. The daily chart shows that Shiba Inu price has found a strong bottom at $0.0000070, where it failed to move in 2022. A drop below that level will be a signal that bears have prevailed and it will push it much lower.
I have a bullish outlook for the coin in 2023 and suspect that it will retest the resistance at $0.00001520, which was the highest point in October. This price is about 74% above the current level.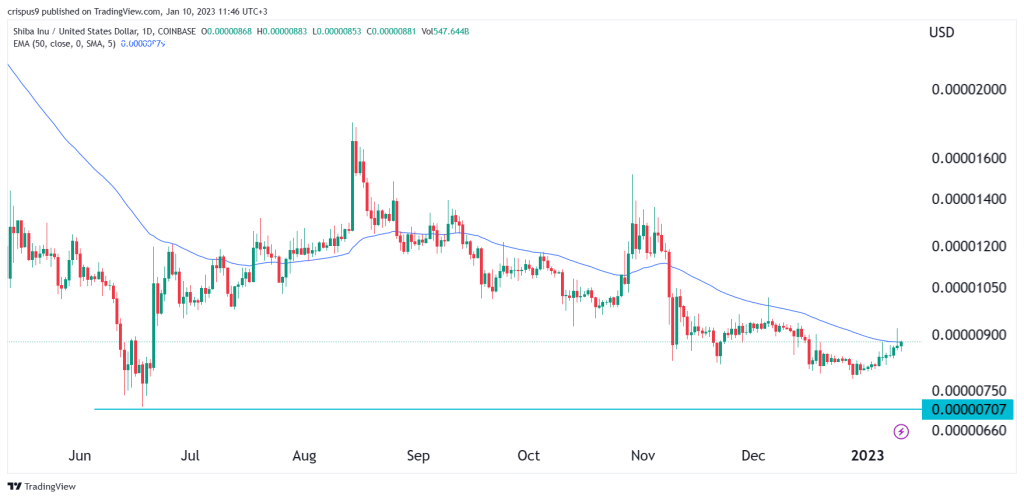 Shiba Inu price prediction 2025
An important lesson of the past few years is on the difficulty of predicting how cryptocurrencies will trade in a certain period. A year ago, we were all predicting that Shiba Inu and other cryptocurrencies will surge. Therefore, making a Shiba Inu price prediction for 2025 is not easy. I suspect that Shiba Inu will be significantly lower than where it is today. If this happens, the next key level will be $0.0000890 in 2025.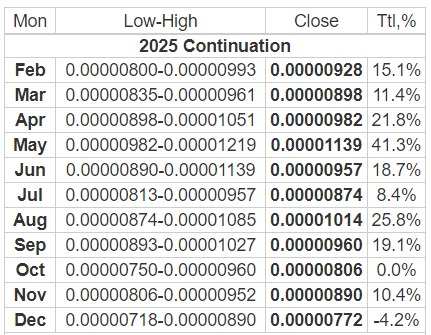 Shiba Inu price prediction 2030
As I wrote above, making a long-term prediction for Shiba Inu is nearly impossible. Predicting what will happen in the next 7 years is more difficult since we don't even know whether cryptos will be in existence by then. Also, as I noted earlier, we don't recommend buying and holding a crypto like Shiba Inu. Instead, you should learn how to day trade it. Similar to my prediction for 2025, I believe that SHIB will be much lower in 2030.
Shiba Inu price prediction 2040
2040 is 17 years later, meaning that it is also difficult to make a clear and accurate prediction for that period. For example, Bitcoin has changed the world in about 13 years. And a lot can happen between now and 2040.