The shares of Yes Bank have been in a tailspin since a failed breakout attempt above 18.6 which occurred in September. Since then the shares of the Indian banking giant have seen a 16% correction. The downward momentum picked up after the recent release of its Q2FY24 results.
After an intense sell-off since the start of this week, Indian shares opened higher on Friday. As a result, the benchmark Nifty 50 and BSE Sensex were up 168 and 522 points, respectively. This also caused a bounce in the Yes Bank share price which was up 1.26% at press time.
The recently released Yes Bank results for the second quarter of 2023-24 showed that the bank's profit in the second quarter remained Rs 225 crore. This was a 47.4% increase on a YoY basis. However, an increase in the cost of funding and a decrease in net interest income (NII) was seen as a major cause of concern.
Consequently, Yes Bank share price plunged to its lowest level since June 2023. The broader bearish market sentiment further aggravated the selling pressure which resulted in a breach of the Rs 16 level on the chart.
Due to this sell-off, Kotak Securities have revised their earnings and have assigned a 'Reduce' rating to the stock with a fair value of Rs 17.
NSE: YESBANK Chart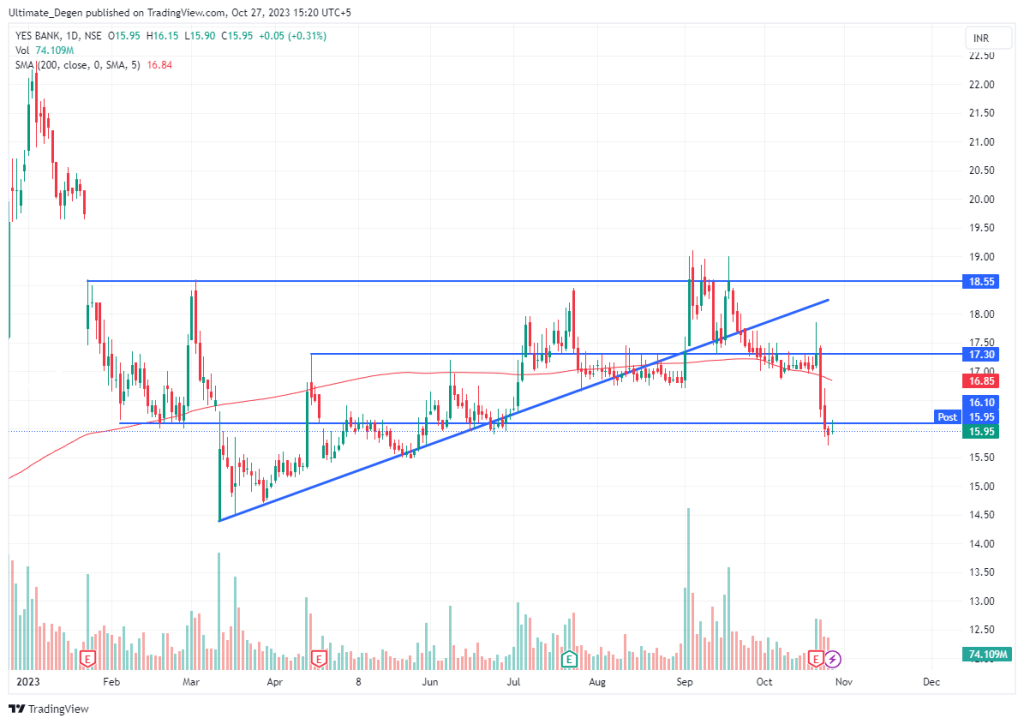 Yes Bank Share Price Forecast
I issued a warning after YESBANK shares failed to break above their Rs 18.55 resistance in September. After this rejection, another bearish confirmation was the breakdown from the upward trendline. This resulted in a downward acceleration and a retest of the Rs 16 support level.
According to technical analysis, Yes Bank share price forecast is looking very bearish after a breach of major support. A failure to reclaim Rs 16 support may result in a tap of March 2023 lows which lies around Rs 14.4. This will be a 10% downside from the current valuation.