Our Yes Bank share price analysis shows that the bears are in complete control. The price has taken a nosedive after forming a double-top pattern. If bulls don't step up soon, things could turn pretty ugly. The recent Adani and Hindenburg saga has changed the liquidity dynamics of the Indian stock market. Yes Bank shares have also been affected by the slump in Indian equities.
The quarterly profit of Yes Bank has also taken a nosedive. Recently the bank announced an 80% decrease in its quarterly profit. The bank posted a total profit of only ₹515 million. Nevertheless, the Foreign Institutional Investor (FII) stake in the Bank increased by 11% during the same tenure.
Yes Bank was also recently ranked one of the top retail and specialized bank in emerging markets. These rankings which were produced by Moody's ESG Solutions, put Yes Bank in 5th place in the category.
Yes Bank Share Price Forecast
Technical analysis of the price chart suggests that the price has formed a double-top pattern. This is one of the most bearish reversal patterns in the share market. At the time of writing, Yes Bank share price is trading 32% below its December 2022 high of ₹24.75.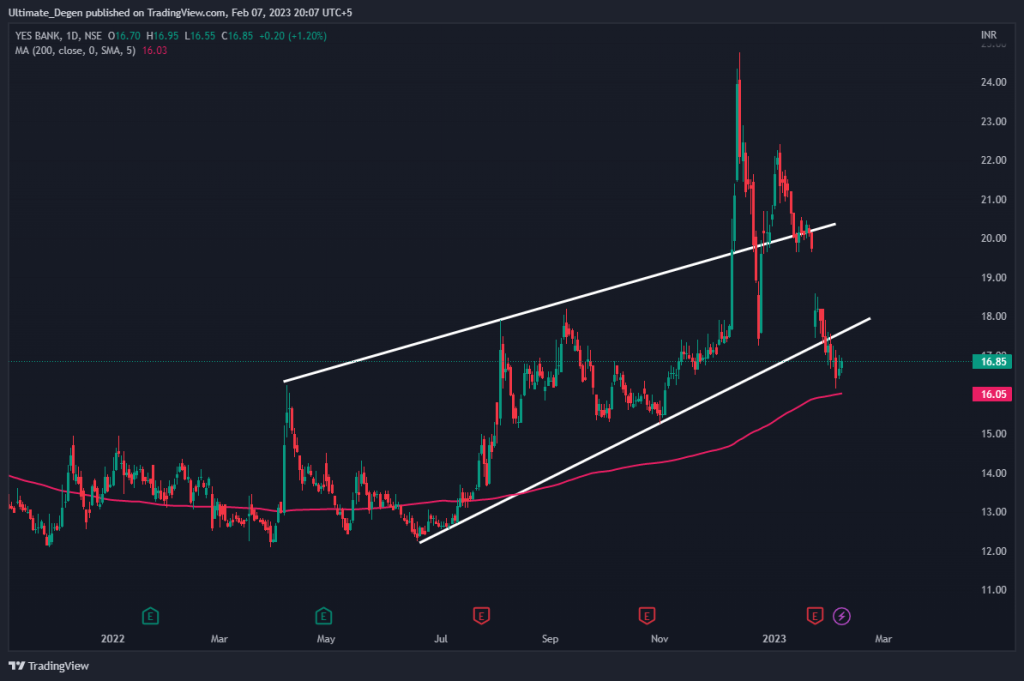 The price has also broken below the upwards trendline, which shows that the bears have taken the driving seat. Bulls need to pump the price back into the uptrend to avoid the extreme bear case of ₹12.25. This bearish target lies 27.5% below the current price of ₹16.90. Last week, Yes Bank price bounced off the 200-day moving average. However, a breach of 200 MA in the coming days can't be ruled out, considering the current state of Indian stocks.
Nevertheless, Yes Bank share still seems to be an excellent long-term hold. This is because of many fundamentals of the Yes Bank, like an increased FII stake, point towards a recovery in the future. The leadership also seems quite committed to steering the bank through these challenging times.