This article will look at the Ripple price prediction for 2022, 2025 and 2030. We will also look at the latest events that might impact its future and how Ripple technology continues to change the scope of the cryptocurrency industry.
XRP Overview
Ripple was founded in 2012 by Jed McCaleb and Chris Larsen. At its core, the project was designed to work as or as a replacement for SWIFT, the world's leading money transfer network used for international money and security transfers. Unlike other cryptocurrency projects that allow mining, the Ripple network uses a consensus mechanism, and the transactions are confirmed via a group of bank-owned servers.
It is also cost-effective and environmentally friendly compared to other projects that use proof-of-work mechanisms. It is also important to note that the consensus mechanism is different from the proof-of-stake system, which is used to confirm transactions and create new blocks. The Consensus mechanism is used to validate account balances and transactions on the system, which increases their integrity and prevents double-spending.
XRP Price History
Over the years, the XRP price has constantly fluctuated, resulting in a number of price history milestones. For instance, the crypto hit its all-time price low of $0.002802 on July 07, 2014, almost two years after it was founded. XRP would go on to recover, and by January 4, 2018, its prices were trading at $3.84. With its current price of $0.46, XRP is down by 88 per cent from its all-time high five years ago.
This month, the XRP price is down by 4 per cent. The drop follows one of the XRP's strongest months, resulting in a 46 per cent price surge. The year-to-date data shows that the XRP price has dropped by 45 per cent to its current price of $0.46.
How to buy Ripple?
Buying Ripple has become harder due to their legal troubles with the Securities and Exchange Commission. This has led to many exchanges delisting the crypto. Some of the most popular platforms that have taken the step to remove Ripple include Coinbase, Crypto.com, Binance, Bitstamp, Kraken, eToro, Abra, B2C2, CrossTower, Bittrex, Eobot, Beaxy, OSL, Okcoin, STEX, Ziglu, Wirex and Bitwise.
Luckily, platforms such as the Phemex crypto exchange are still trading Ripple, Until the case against Ripple is resolved, platforms will continue avoiding it, and selling it to clients from the US, and sometimes, other parts of the world.
XRP live statistics instant update:
Latest XRP Prices Today

XRP Price
$0.6959
Price Change 24h
+$0.006122
24h Low: / 24h High:
$0.6865 /

$0.7072

Trading Volume 24h
$1,219,899,969
Market Dominance
3.11%
Market Rank
#5
Market Cap
$36,669,264,112
Fully Diluted Market Cap
$69,589,265,299
7d Low: / 7d High:
$0.6865 /

$0.7298

30d Low: / 30d High:
$0.4606 /

$0.8875

All Time High: Jan 04, 2018 (6 years ago)
$3.8419
All Time Low: Jul 07, 2014 (9 years ago)
$0.002802
XRP ROI
11746.08%
Last Update
2023-08-02 10:41
Ripple Vs. SEC
One of the most dominant XRP stories of the past few years has involved the court battle between Ripple and the U.S. Securities and Exchange Commission (SEC). The case, filed in December 2020, accused Ripple and its executives of selling XRP worth over $1.38 billion. The SEC classified the XRP tokens as unregistered securities, which made the $1.38 billion sale illegal.
Since then, the two entities have been fighting in court. However, the latest development on the case indicates that Ripple may have the upper hand after it was revealed that former SEC Corporation Finance Division director William Hinman had one time raised doubts on whether the sale of XRP was actually illegal since he did not think they met the criteria of being classified as securities.
Currently, SEC has confirmed that they had followed through with a court order asking them to release documents related to Hinman's comments. The Ripple platform also confirmed they had received the documents through their general counsel Stuart Alderoty. The ruling of this case will have a significant impact on the future of XRP.
Ripple Price Prediction 2022
Looking at the chart below, it is clear that the past few weeks have seen XRP price trading in a horizontal market. The chart also shows that, despite price weakness in October, the trend had been very strong from mid-September to early this month, which had seen Ripple's value surge by over 60 per cent.
Compared to other cryptocurrencies, Ripple has also overperformed in the markets in the past two months. Therefore, the current horizontal market is likely a price action. I expect the strong bullish trend to continue for the next two months. It is highly likely that, by the end of the year, Ripple's price will have hit the $0.57 price level and will be trading above it.
There is also a high likelihood that prices may go up to hit $0.65 before the end of the year. This will be a 40 per cent price surge if the best-case scenario plays out. However, an unfavourable ruling by the court in the current legal battle with SEC may see XRP price plummet to trade below the $0.30 price level before the end of the year.
XRP Daily Live Chart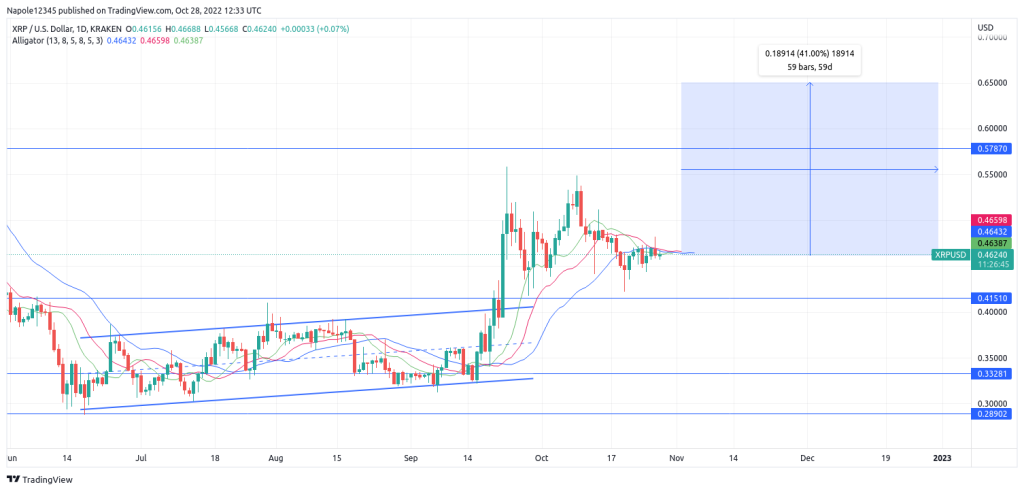 XRP Price Prediction 2025 – 2030
As indicated throughout this article, the XRP price has outperformed the market for most of the year. However, its future continues to be pegged on its ongoing case against the SEC. Therefore, should the ruling be favourable, I expect the growth to continue, and by 2025, the prices to have hit the 5 price level.
Part of the reason why I think XRP has the potential to be trading at 1,000 per cent above today's price by 2025 is that the current bear market has pushed XRP to trade at a value below its valuation. Therefore, the recovery of the industry, combined with Ripple winning its case against the SEC, will see its price surge to above the 5 price level. There is a high likelihood that we might see XRP trading above the $10 price level by 2025, a 2,000 per cent increase from the current price.
Is Ripple a Good Investment?
As shown above, there is a high likelihood that we might close this year with a 40 per cent price gain from the current price of $0.46. We have also seen above that there is a high likelihood that, by the time 2025 is knocking at our door, Ripple will be up by between 1,0000 to 2,000 per cent increase from today's price.
Therefore, I think Ripple is a good investment for the long term. However, short-term traders should be cautious as ripple continues to trade in a sideways market.