XDC Network price is trending lower, just like most of the other altcoins. The price has recently faced rejection from the range highs after a failed breakout attempt. The technical analysis reveals that there is a potential 30% downside for XDC coin if the price doesn't break above range highs soon.
Cryptocurrencies are experiencing increased volatility on Wednesday due to the release of June CPI data. BTC price once again failed to break above its $31,000 resistance level. However, the XDC coin showed a positive price action and was up 2.73% before the start of the New York session.
XDC Network TVL Tanks
In my last analysis of XDC crypto, I reported a strong surge in the total locked value (TVL) on the XDC blockchain. The exact opposite is the case right now, as the TVL has plummeted by 40%. Currently, there is only $2.72 million locked on the blockchain. Just three months ago, the same figure stood at $4.4 million.
The exact reason for the ongoing bearish momentum in the XDC network price is still unknown, but its chart provides a plausible explanation. A possible factor indirectly affecting the price action could be the recent increase in Bitcon dominance.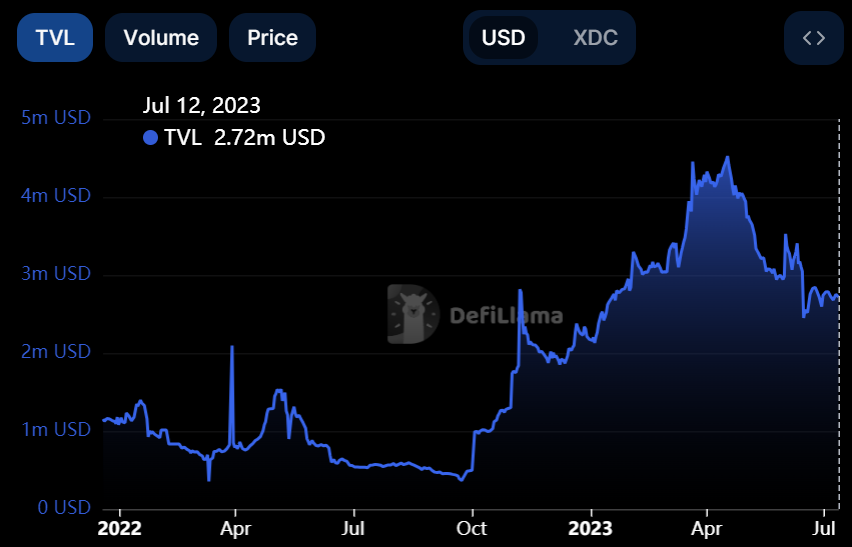 XDC Network Price Prediction
In my last forecast, I predicted a 20% price increase for the XDC coin. While the price reversed before hitting my price target of $0.05, it still gave 10% returns from those levels. The latest technical analysis shows that the price is once again back in the accumulation range after a failed breakout.
My XDC Network price prediction will flip bearish if it breakdowns below the $0.025 level, which is the midpoint of the current range. In such a case, I expect a retest of the range lows which lie at $0.022. this will be almost a 30% drop from the current price. However, if the $0.03 level holds, the price can retest range highs around $0.038 once again. The latter scenario will only play out if the BTC dominance starts to decrease.
I'll keep posting my updated XDC analysis and my personal trade setups on Twitter, where you are welcome to follow me.