Bearish WINK coin price predictions appear to have taken hold of the market, as the token dipped further this Thursday in reaction to the events taking place in Ukraine. The Russian invasion has proven to be a deal-breaker for those who felt that there would be an upturn in bullish Wink coin price predictions. But following the violation of the 0.0002898 support to the downside, the WIN/USDT pair has found itself shedding this week's earlier gains as the conflict unfolds.
Wink latest news
Seven new slot games have been added to the WINK network, expanding the gameplays available to faithful gamers on this network. However, it appears that the market is not interested in what is going on inside blockchain projects but is following the generalized risk-off sentiment that has captured global markets.
February has proven to be a disappointing month not just for the decentralized gaming platform but for the crypto market in general. Most rallies seen this month have ended up being opportunities for whale dumpers to sell hard, crushing retail long positions. Indeed, the WIN/USDT pair has had only three winning weeks in the last fourteen and is now perilously close to hitting all-time lows seen last in early 2020. The WIN/USDT pair is down 12.09% as of writing.
Wink Coin Price Prediction
The decline in the WIN/USDT pair on the weekly chart results from the successful completion of the rising wedge pattern. The breakdown of this pattern resulted in a measured move that appears to have pushed past its completion point at the 0.0002898 support. The decline in the active weekly candle has violated this support, with a full breakdown now in view.
A 3% penetration close below this support confirms the breakdown and clears the pathway towards 0.0001486. 0.0000640 is the lowest that this pair has been since listing, but this price pivot could come into play on continued price deterioration.
Conversely, the price would need to bounce off any of these pivots and clear 0.0008684 for the sentiment to change. This move would need to take out barriers at 0.0004027 and 0.0005720 along the way. The highs posted in the 1st quarter of 2021 appear to be too far off at the moment. It may take a long while for any Wink Coin price predictions to get anywhere close to those levels in the medium term.
WIN/USDT: Weekly Chart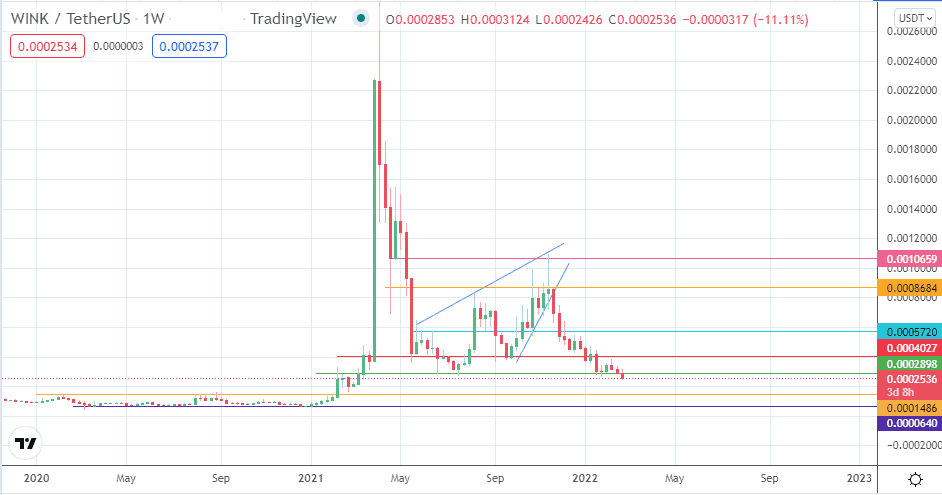 Follow Eno on Twitter.