Lloyds (LON: LLOY) share price is trading lower on Thursday after a pullback from the 44.6p key resistance level. As the news of the pause in rate hikes by BOE came out, the shares of the British lender surged and peaked at 45.5p level before plunging back below 44.6p. The shares are currently standing at 44.57p, down 0.02% till press time.
After the pause in interest rate hikes by the Bank of England, UK shares spiked towards the upside. However, the spike did not last long as the sellers entered the market. The FTSE 100 index stood at 7,716 points after dropping by 16 points on Thursday.
Viking Global Shorts LON: LLOY
The American hedge fund, Viking Global revealed their $206 million short position in Lloyds shares. The hedge fund lists the concerns over Lloyds mortgage business as the reasons for holding a short position on the stock. The British lender itself expects a significant fall in margins due to the rising interest rates. The mortgage defaulting rate has climbed to a 7-year high.
Earlier in August, Lloyd also finished its £2 billion share buyback program. The British lender bought 4,386,262,707 of its ordinary shares. This buyback program was managed by UBS London. Currently, Lloyds share price is trading 18% below its yearly high.
Lloyd Share Price Forecast
The LON: LLOY is currently retesting the neckline of the head and shoulders pattern, which lies at 44.6p. The chart also reveals that the price is still trading 5% below the 200 MA level, which lies at 46.3p. In addition, the shares of the lending giant are also sitting 8% above September lows.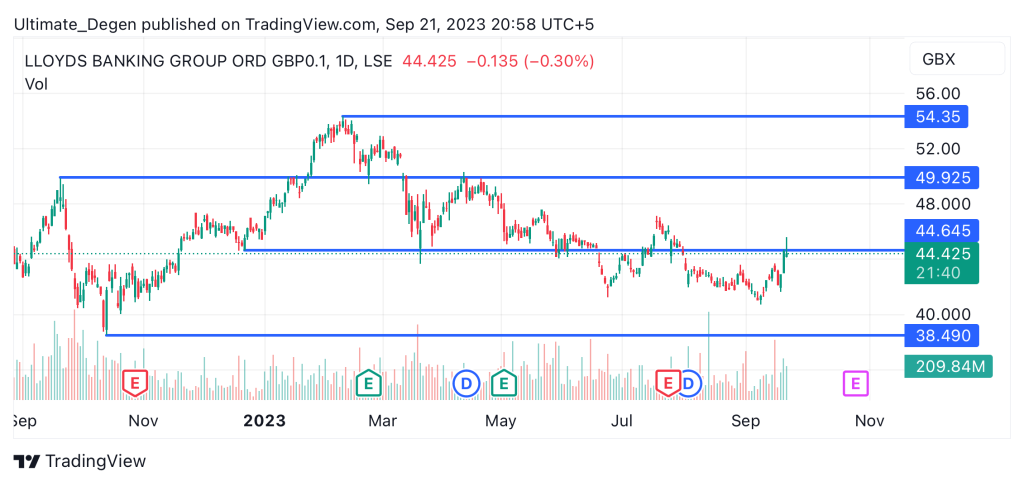 The Lloyd share price forecast will flip bullish provided the price finds strength above the 44.6p level. In this case, I expect a retest of the 47p which is the July high. A retest of the 200 MA will also be on the cards if the bulls gain momentum. However, under the current market conditions, a pullback from the current level seems more likely.
In the meantime, I'll keep sharing updated LLOY price forecast and my personal trades on my Twitter, where you are welcome to follow me.