Altcoins are facing headwinds due to the recent surge in Bitcoin dominance (BTC.D). Despite a recovery in altcoin since the start of September, IOTA price is still experiencing strong selling pressure. The leading cryptocurrency is currently 97.8% down from its 2017 all-time high.
Crypto markets are experiencing a bearish sentiment on Wednesday. Bitcoin price slid below $27,000 once again. This triggered a sell-off in IOTA as well, which plummeted 0.74% today. Most other altcoins also showed a negative price action as the altcoin market cap fell by 0.5%.
Falling Wedge Spotted On Daily Chart
As visible in the following chart, IOTA price is forming a falling wedge pattern. A breakout from these patterns usually results in a significant upside, but there are no signs of any breakout yet. The most critical level is the 0.238 resistance level, which is also a previous support level.
Another confirmation of the bearish outlook is that the price is trading 20% below the 200-day moving average. This is a very significant indicator which shows the strength of an asset's price. As long as the coin trades below $0.238, I don't have any bullish expectations from IOTA.
IOTA Price Analysis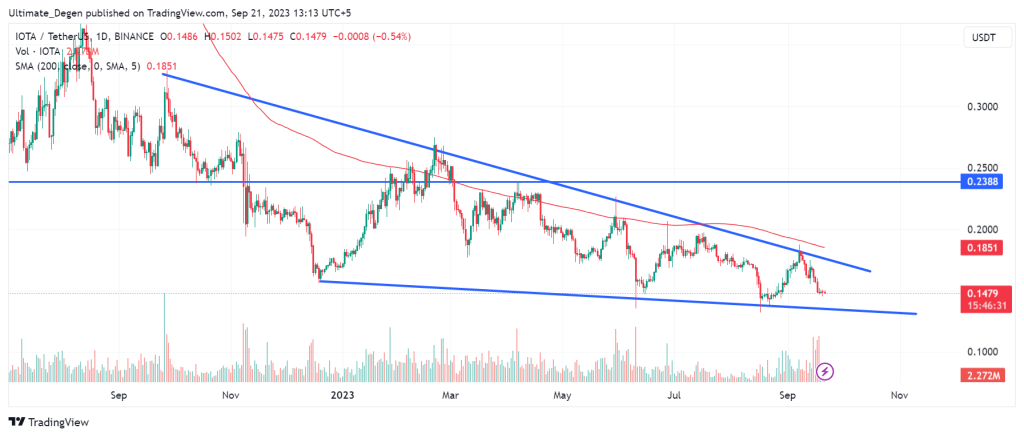 IOTA Latest News
IOTA hype has faded since its peak in 2017. During this time, a lot of new players have emerged in the market. The DAG-based project's developers have now come up with a new plan to put it on the map once again.
According to the latest IOTA news, the team will build a new blockchain to support decentralized applications. A new ecosystem fund will also be allocated to accelerate the adoption. These developments may make IOTA price prediction bullish once again.
However, it is too soon to predict a bullish reversal any time soon, as there is still a chance for the price to retest its all-time low around $0.05.