Bitcoin prices touched off new highs amid intense volatility on Wednesday. However, US traders on Kraken and Binance US got a shocker, as a flash crash sent the BTC/USD tumbling. The crash saw Bitcoin hit a low of $54,000 on Kraken and $8,200 on Binance US. However, the price quickly spiked back up to the market value, even as the pair sold off on the day due to profit-taking.
Binance US put out a statement on the occurrence, saying it was still trying to establish whether the error was due to a technical problem or a personal operation error. The volume that caused the crash was 592 BTC. As of writing, no statement from Kraken on the event had been received.
Bitcoin prices are down 2.17% as of writing.
Bitcoin Price Outlook
The BTC/USD pair is trading lower and has violated the 63634 support level. A further decline sends the pair below 60,000, with 59455 and 56032 serving as the immediate downside targets. A further decline targets a recent support zone at 53140/53780.
On the other hand, 66,997 remains the all-time high and is the barrier that rests between the bulls and new highs at 68,860 (127.2% Fibonacci extension). Above this level, we have additional upside targets at 72086 and potentially at 76710.
BTC/USD Daily Chart (Binance US)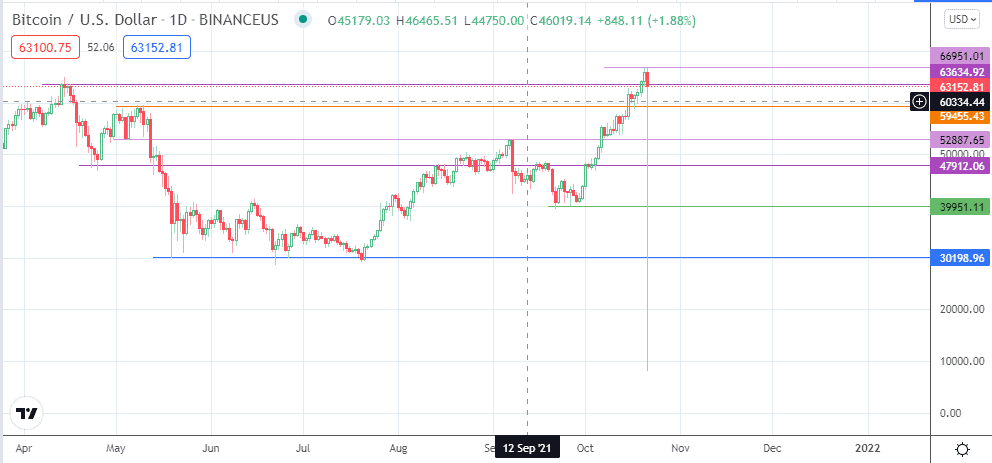 Follow Eno on Twitter.