Phantasma has seen a sudden surge of buying, sending the SOUL price on a 230% parabolic rally this month. So what's all the fuss about?
The reason Phantasma is flying is that investors are betting the relatively small gaming and NFT blockchain could become a big deal in the Metaverse. The chain's smartNFT technology and low minting and transaction fees are encouraging interest in its SOUL token. As a result, SOUL jumped over 400% since Facebook announced its pivot to META on the 28th of October. Subsequently, Phantasma's market cap has swollen to $317m, launching the token into the top 200 list. And whilst Phantasma is still considered small, buyers are taking cues from Metaverse and gaming-related projects like The Sandbox (SAND) and Enjin Coin (ENJ), hoping Phantasma will see similar success and price appreciation.
Phantasma Price Action
The 4-hour chart shows SOUL/USDT has broken above two key trend lines in that couple of days. Furthermore, the spike in volume indicates buyers are chasing the SOUL price higher. Subsequently, it is starting to look stretched on some metrics. However, smaller cryptocurrencies can often have out-sized moves into highly overbought territory.
On balance, it's hard to say if the Phantasma price will keep going higher from this level. Furthermore, the Metaverse space is highly-competitive, and Phatasma's success is by no means guaranteed at this early stage. Therefore, in my opinion, buying the SOUL token is risky right now. On that basis, my advice is to put this one on the watchlist and wait for a better entry point that carries less immediate risk.
SOUL Price Chart (4-Hour)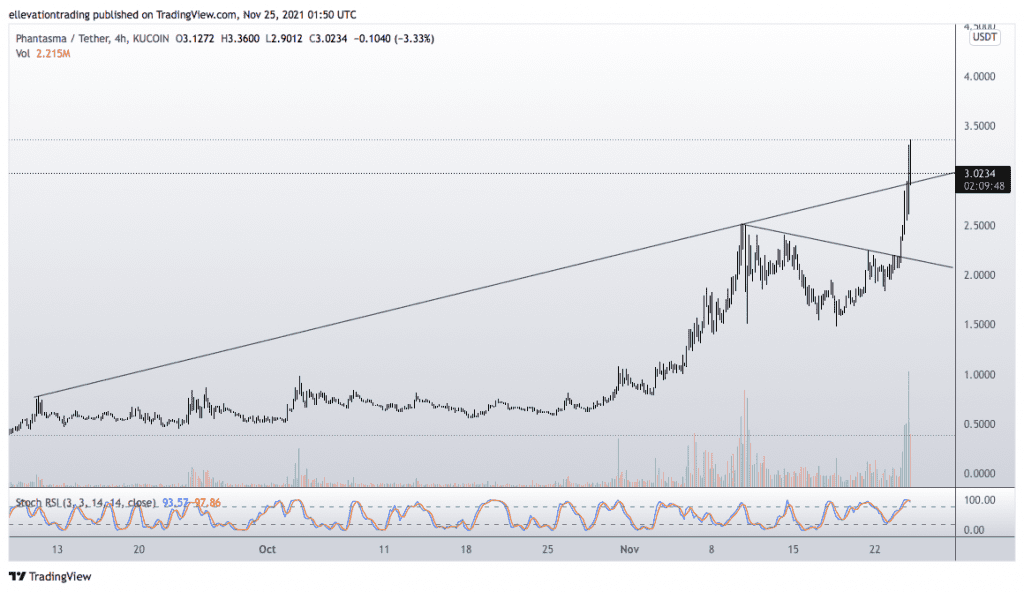 For more market insights, follow Elliott on Twitter.