If you have followed my analysis in the last couple of months, I gave you a hundred reasons to be cautious before investing in the Wall Street Memes coin. I deeply analyzed the coin from different perspectives and raised a few red flags that no other analysts talked about.
On Tuesday, Wall Street Memes price is hovering around $0.03, which is 10% below the presale price of the coin. The project raised $33.7 million in its presale by selling 1 billion coins, which showed a strong interest in the coin by the community.
However, after an initial hype and some profit taking, WSM coin has now tanked below its presale price. This means that all the people who chased the hype and invested in the presale of the projects are currently at a loss. Many people are still holding the coin in anticipation of a recovery, but they are once again ignoring obvious concerns. Whether you want to hold the coin or sell it is totally up to your risk appetite.
After listing on multiple spot exchanges, WSM perpetual futures are also available now on many exchanges. The launch of future contracts has given the price some stability as the traders can now take positions on both sides.
However, my biggest concern is the fact that the Wall Street Memes price has gained acceptance below the presale price of $0.033. Many investors are jumping off the ship to avoid deeper losses. The price action also remains unfazed by the recent increase in the market volatility.
WSCM Crypto Chart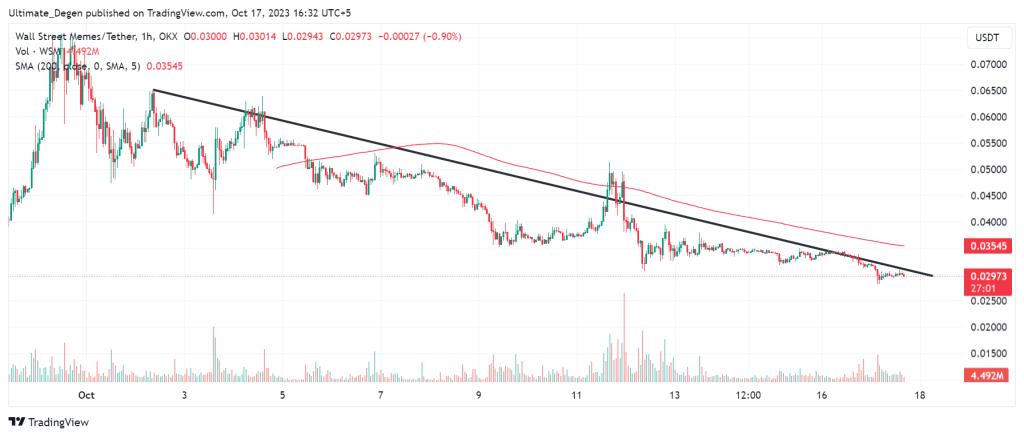 Wall Street Memes Price Prediction
The latest analysis shows that WSM crypto is facing an intense downtrend. The price is struggling to break above the downward trendline, as shown in the chart above. It is quite evident that the Wall Street Memes price prediction has flipped bearish after a breakdown below $0.0337.
As long as the price remains below this level, I don't expect any buying pressure to appear. I had to face a lot of backlash on Twitter when I raised a few concerns about this project in its presale stage.