The recent correction in the price activity of the VVS/USDT pair has not dampened bullish VVS Finance price prediction. At the moment, the correction move has been unable to break down the 0.00002688 support. The price activity of Wednesday and Thursday has helped to preserve this support level, boosting hopes of a recovery. However, bullish momentum remains weak.
The slight uptick in price follows the recovery in Bitcoin prices and the prices of DeFi-based altcoins. However, there is no significant trigger for price action on the VVS/USDT pair. Hence, it is expected that the current price activity will respond to what is happening elsewhere within the market, as opposed to the inherent fundamentals in VVS Finance.
VVS Finance is a relatively new project, launched in late January on the BitGet exchange. Interest in DeFi tokens waned considerably in late 2021 but appears to have been restoked as interoperability, and cross-chain bridges have allowed for the development of new projects. VVS Finance was created out of the Cronos network with a promise to offer a low-fee, yield-attractive package for liquidity providers in a minimal slippage environment. VVS Finance currently has a total value locked of $1.35 billion, accounting for more than half of the TVL in the Cronos network.
VVS Finance Price Prediction
The support at 0.00002668 is challenged by the recent correction from the 0.00002847 resistance. If this support gives way, the next port of call would be the 0.00002575 support (24 February and 26 March lows). 0.00002389 is an additional target to the south that remains out of reach.
On the flip side, a bounce on the current support allows the bulls to retest the 0.00002847 resistance. If this barrier is broken, the pathway towards the 0.00002986 resistance (25 January/26 February 2022 highs) becomes the next target point. Additional opposition comes from the 0.00003093 price mark, where a previous high was seen on 23 February 2022. Uncapping this barrier makes 0.00003144 available.
VVS/USDT: 4-hour Chart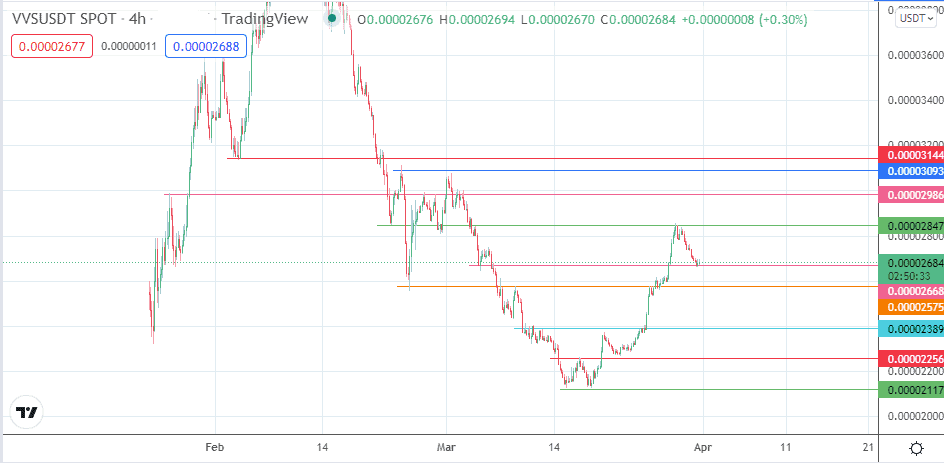 Follow Eno on Twitter.