The Turkish Lira resumed its fall against the US Dollar after the latest inflation data showed that consumer inflation had risen to its highest annual levels since 2002. Official data released on Monday showed that consumer inflation had increased to 36.1%. This represents a 21.3% increase in November on an annual basis and is the highest inflation figure since October 2002.
The situation has caused the Turkish Lira to reverse the recent gains that followed the announcement of government guarantees for returns on local currency deposits. The USD/TRY is up 1.84% on the day, which represents the sixth day of gains out of the last seven trading sessions.
The slump in the Lira followed the decision of the Central Bank of the Republic of Turkey (CBRT) to cut the country's interest rate from 15% to 14% in December 2021, in an action that defied economic principles.
USD/TRY Outlook
The intraday uptick has violated the 13.19476 resistance. A breakout allows the bulls to target the 13.88588 resistance. The previous high of 13 December at 14.88522 forms an additional target to the upside.
Conversely, a correction that comes off a rejection at 13.19476 makes room for a decline towards 12.38023. The 11.80890 pivot forms an additional target to the south. 11.17679 forms an additional support target and only becomes visible if the corrective decline is more extensive.
USD/TRY: Daily Chart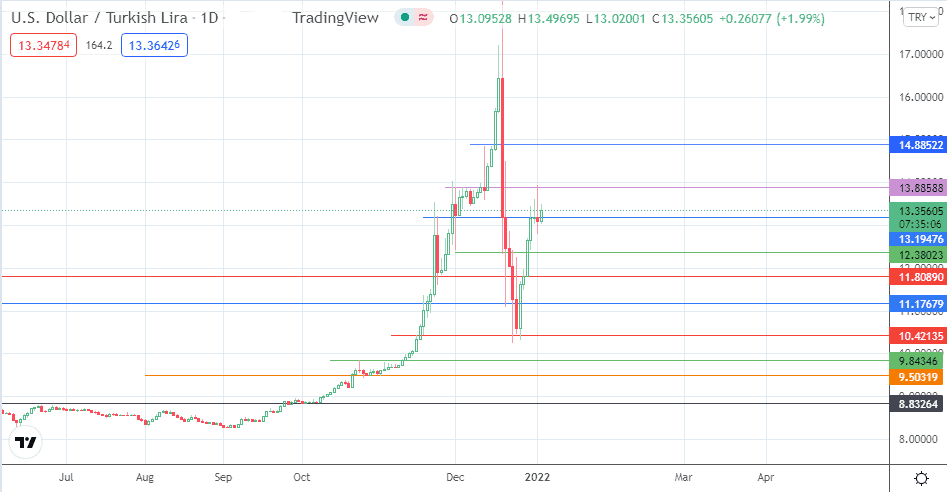 Follow Eno on Twitter.