It seems that the Turkish lira has no floor against the US dollar as the USD/TRY pair has once again made a new all-time high. The Turkish currency has depreciated by a staggering 52% against the global reserve currency since the start of 2023 and there are no signs of any strength.
In this week alone, the US dollar to lira exchange rate has risen 0.65%. This also marks the current week, the third consecutive week of lira's downfall in terms of the greenback. At press time, USDTRY stood at 28.4097, which was the highest level for the forex pair in its history.
Just a week ago, the Turkish central bank hiked the interest rates in the country by another 500 bps. This increase has taken the interest rates in the country to an unprecedented level of 35%. The aggressive rate comes at a time when the Turks face more than 60% inflation in the country.
It seems that it is too late to introduce such an aggressive rate hike as USD/TRY has continued to rise after the recent increase in borrowing rate. The efforts of the new Erdogan regime have remained ineffective in stopping the bleeding of the Turkish lira amid a growing cost of living crisis in the country.
USDTRY Chart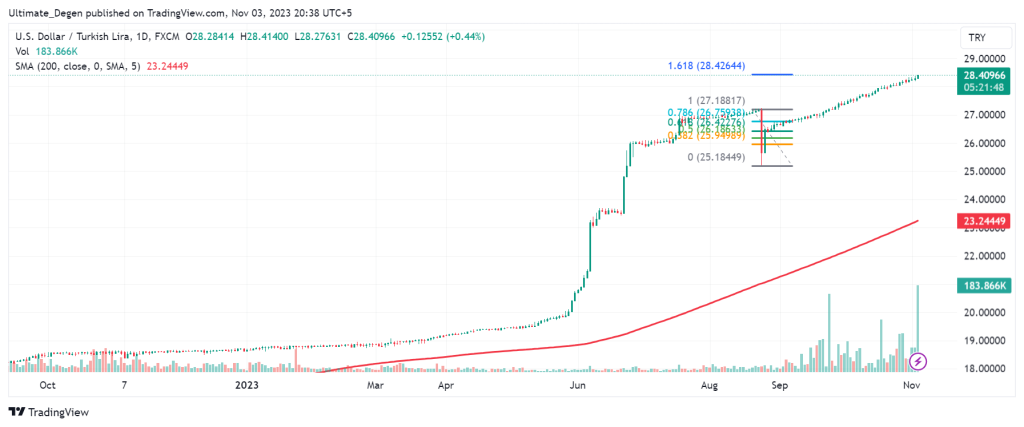 USD/TRY Forecast
Technical analysis of the US dollar to Turkish lira reveals that the pair is in a massive uptrend. In the coming days, the pair is expected to continue its bullish trend. A retest of the major psychological level of 30 could also be on the cards for the coming months if the lira keeps devaluing.
As long as the DXY index remains above 106 points, I don't expect any trend reversal in the USD/TRY. However, in case of a major pullback in the dollar strength index, the Turkish currency may take a breather.
The ongoing geopolitical situation in the Middle East and the elevated oil prices are also weighing on the Turkish lira.