The USD/TRY exchange rate has been in a tight range in the past few months despite major market news. It has been recoiling at 18.71, where it has been in the past few months. This price is a few points below the year-to-date high of 19.336. It has risen by more than 47% in 2022. So, how will the Turkish lira fare in 2023?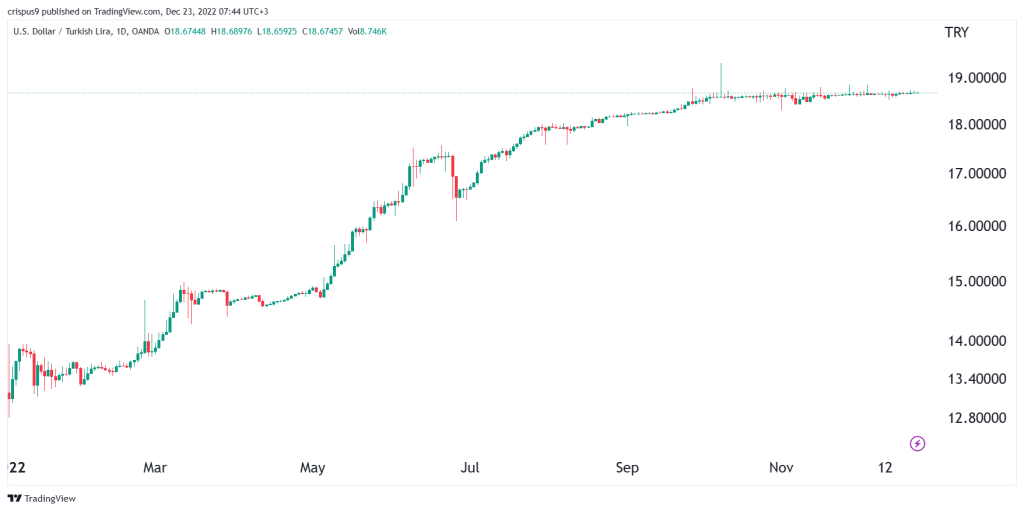 Top USD/TRY news
There are several important USD/TRY news. First, on Thursday, the Central Bank of the Republic of Turkey (CBRT) delivered its final decision of the year. As was widely expected, the bank decided to leave interest rates unchanged at 9%. This capped a remarkable year when the bank has slashed interest rates from 14% even as Turkey moved into hyperinflation.
Analysts believe that the CBRT will continue easing in the coming months as the country moves to an election. As a result, while inflation is easing in most countries, Turkey will remain in a hyperinflation state for longer.
The other important USD/TRY news was the latest American consumer confidence data. According to the Conference Board, America's consumer confidence made a strong comeback in December as inflation eased. It moved from 101 in November to 108 in December. Consumer confidence is an important metric because of the role that consumer spending has on the economy.
The pair also reacted to the latest US GDP data published on Thursday. These numbers showed that the economy expanded by 3.2% in Q3, a much bigger comeback than the previous two estimates of 2.9%. The GDP price index rose from 4.3% to 4.4%. Additional data showed hat the core PCE rose from 4.60% to 4.70% in Q3.
Outlook for 2023
The USD to TRY exchange rate will react to several things in 2023. First, it will react to the actions by the Federal Reserve. The bank has hinted that it will continue hiking interest rates in the coming year, with the terminal rate being at 5.1%. With the economy doing better than expected, there is a likelihood that it will hike its terminal rate outlook.
Second, it will react to the latest actions by the CBRT. As mentioned above, with Turkey's election scheduled for June, there is a likelihood that the CBRT will deliver more rate cuts. Further, the election will have an impact on the USDTRY. If Erdogan wins, we could see the pair continue rising.
Therefore, while it is still too early to tell, I suspect that the USD/TRY price will move away from its consolidation phase and rise to about 22 in 2023. Besides, the Turkish lira has been in a constant decline in the past decades.