The USD/INR is inching towards the northern direction after three weeks of correction, as recent commentary from key Fed officials points to further tightening monetary policy in the United States in response to rising consumer inflation.
US Consumer Price Index (annualized) is expected to come in at 8.4% versus the previous annualized figure of 7.9%. Higher inflation expectations indicate that the market still expects the US Federal Reserve to tighten further to put a chokehold on spiralling US inflation, which is already at 40-year highs. This expectation drives demand for the US Dollar ahead of the US CPI report, which is due in just under three hours. The USD/INR is up 0.4% this Tuesday. 
USD/INR Outlook
As predicted in the last update, the USD/INR found support at the combined support formed by the channel's return line and the ascending trendline that connects the lows of 13 January and 22 February 2022. This prompted a strong bounce on the 7 April candle, followed by a consolidation that resembles a flag.
Tuesday's upside move completes this flag and has violated the channel's trendline. If the active candle closes at present levels or higher, the channel is deemed as broken, and the door towards the 76.3812 resistance (15 December 2021 high and 4/28 March 2022 highs) is blown wide open. Above this level, 77.0262 forms additional support, the site of a previous high seen in April 2020.
Conversely, a bearish sentiment only sets in if the price action breaks below the ascending trendline. This move would open the door toward the 75.2034 and 74.8389 support levels. 74.5164 (31 January and 23 February 2022 lows) completes the short-term targets to the south, which come into play if the trendline mentioned above gives way.
USD/INR: Daily Chart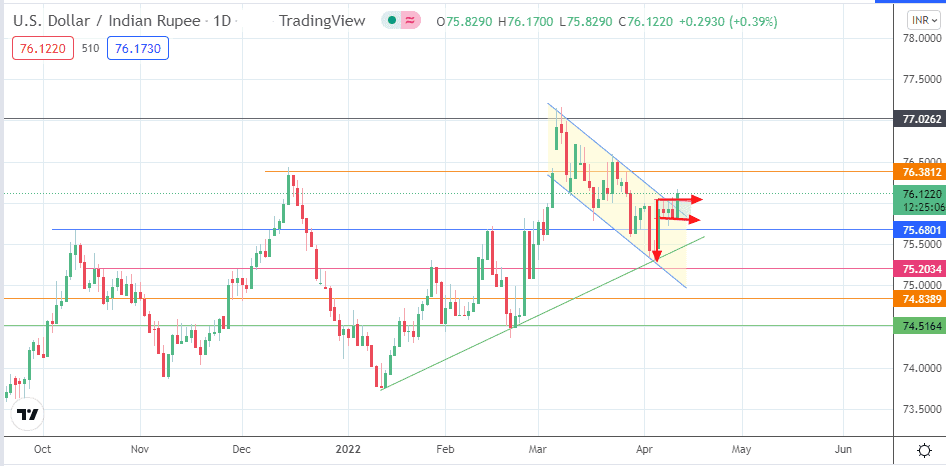 Follow Eno on Twitter.