The Taylor Wimpey share price is up this Wednesday, marking a 2nd straight day of gains as the company's stock received a positive appraisal from German bank Berenberg.
In an analysis of the UK housing sector in the face of rising inflation, Berenberg says the impact of small rate increases on the housing market would be more muted than the market was currently betting on. It said that rising demand, cheap valuations and prices that continue to offset costs are potential factors that could produce achievable forecasts and a reversal of the current 10% year-to-date underperformance in the market.
On 11 November, Taylor Wimpey's CEO Pete Redfern provided an upbeat outlook for the company's stock, saying that it was on track to meet its full-year forecasts on the back of solid sales. Operating profits for the full year had been upgraded to £820mln in August, with operating margin targets set to 21%-22%.
The Taylor Wimpey share price is up 1.68% on the day as of writing.
Taylor Wimpey Share Price Outlook
The active daily candle is violating the resistance at 159.25 and well on track to a breakout. If this occurs, the 163.85 resistance barrier at the channel's return line becomes the new upside target. A break of this level opens the door towards 172.70. with a potential pitstop at 168.00 (2 August/27 September highs). 
On the other hand, failure to confirm the breakout of 159.25 allows for a pullback that tests the channel's trendline. A breakdown of this trendline targets 152.40 initially (4 October/17 November lows) before 147.35 and 142.30 enter the picture as potential downside targets for the future.
Taylor Wimpey: Daily Chart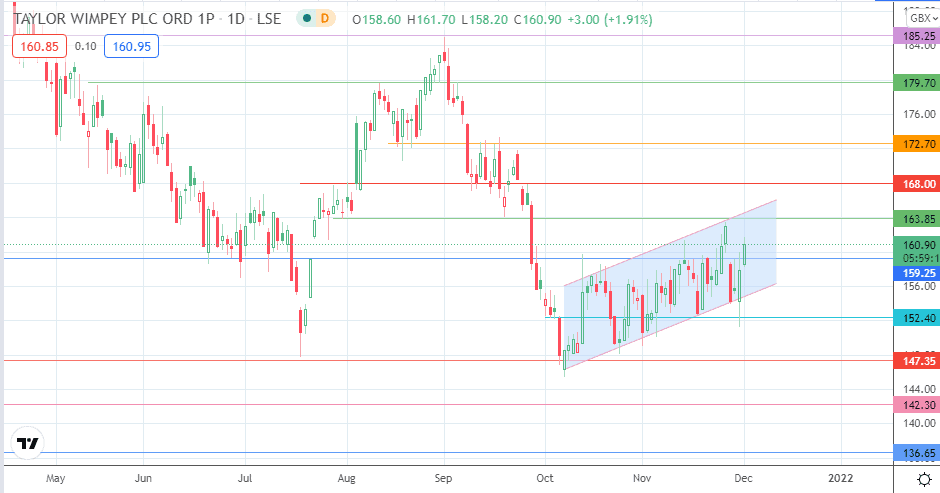 Follow Eno on Twitter.