Despite an attempt at recovery on Tuesday, bearish Uniswap price predictions appear to have resurfaced after it emerged that JP Morgan Chase had closed the accounts of Uniswap founder Hayden Adams.
Adams, whose Uniswap decentralized exchange is the largest in the crypto market, tweeted about the closure of his accounts, saying that this occurred without notice. Adams also claimed that several key individuals working in the crypto industry were being similarly targeted, although he did not provide details.
In September, a Wall Street Journal report had said that the enforcement attorneys of the Securities and Exchange Commission were investigating Uniswap Labs over how the decentralized exchange marketed its products.
Uniswap is up 0.25%, but upside volume and momentum remains weak after sustaining losses in seven of the last eight trading days.
Uniswap Price Prediction
After touching off the 18 January 2021 high at 9.7901 on Monday, the price bounce could not find much of a follow-through action on Tuesday from the bulls. This leaves the price short of the 11.3687 resistance. The bulls must uncap this resistance to make 13.8645 available. 16.9508 is an additional resistance target that remains out of reach at the moment.
On the flip side, a decline below 9.7901 targets the 22 January low at 7.0838. If the decline continues, 4.4340 (11 January 2021 low) becomes an additional target to the south.
Uniswap: Daily Chart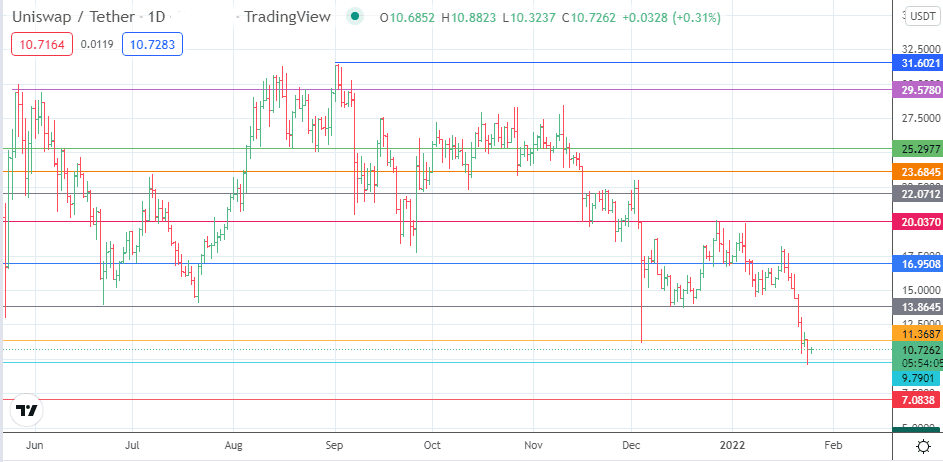 Follow Eno on Twitter.