At the time of writing, Uniswap price (UNI) was 78% down from its May 2021 all-time high of $45. Nevertheless, the rigorous development throughout 2021 and recent L2 expansions suggest that the fundamentals and my Uniswap price prediction is more bullish than ever.
How Does Uniswap Exchange Work?
Uniswap is a decentralized exchange (DEX) built on Ethereum. It allows the swapping of almost all Ethereum based tokens without any intermediary. This is possible due to the disruptive Automated Market Maker (AMM) technology behind Uniswap Protocol. If you wonder how to use Uniswap, don't stress too much as its UI is straightforward.
Currently, Uniswap V3 is the largest DEX across all blockchains. It boasts a total locked value (TVL) of $6.6 billion with a 24h trading volume of $10.4 billion. At the time of writing, Uniswap's native token UNI price is $10.30.
Founder of Uniswap
After a year of development, Hayden Adams launched Uniswap V1 in November 2018. The initial version of Uniswap required liquidity of every asset to be added along with Ethereum's native token Eth.
However, Hayden applied for a grant to Ethereum Foundation, which was eventually accepted. These funds helped Hayden to get a Team to develop Uniswap V2. As a result, version 2 of the top DEX was launched in May 2020. This version allowed the liquidity between two ERC 20 assets, taking the TVL to new heights.
Uniswap V3 and Further Roadmap
In May 2021, Uniswap launched its Version 3. It was termed the most powerful version of the protocol to date. This version was launched with the aim of providing more capital efficiency to the liquidity providers. Although the V2 is still live, most liquidity providers have moved their assets to V3. The launch of V3 hasn't affected Uniswap price that much.
Uniswap also raised a lot of capital in 2020 from top Venture Capitalists. Andreessen Horowitz, ParaFi Capital and Version One Ventures were a few big VCs who threw their weight behind the top protocol. This huge funding has helped Uniswap grow beyond Ethereum, and now the protocol is live on several L2s. Recently Uniswap has added support for Polygon, Optimism and Arbitram. All of these protocols act as a Layer 2 scaling solution for Ethereum.
Latest Uniswap News Today
Uniswap is currently the biggest Decentralized Exchange across all blockchains. In the last 24h, the biggest Ethereum DEX swapped assets worth $10.4 billion. This trading volume is around 25 times more than the 2nd major DEX Pancakeswap.
According to the latest Uniswap news, it is the 2nd most used DApp on Ethereum with around 17,000 daily active users. However, due to the turbulence in the crypto market, Uniswap TVL is currently 35% down from its December 2021 highs. DeFi Lama shows the current TVL at $6.67 billion. The total TVL of the same protocol was $10.3 billion in December 2021. This decrease in TVL has also quite adversely affected the UNI price.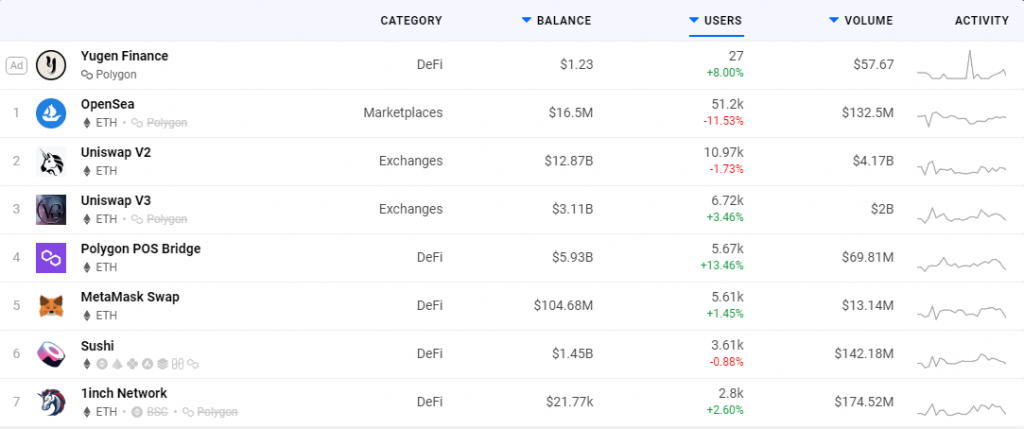 Uniswap Price Prediction 2022
Uniswap (UNI) token is currently trading at $10.2, which is 78% down from its May 2021 all-time high of $45. The prevailing bearish sentiment across the whole crypto market has severely affected UNI prices. UNI price has been in a significant downtrend since touching a local high of $31.36 in September 2021. The price has also broken a year-long uptrend, and it is now consolidating below the trendline.
To regain investor confidence, UNI price needs to break the downtrend that started on 10th November 2021. The price is currently testing the 0.786 Fib level taken from Nov 2020 low ($1.76) to the May 2021 high ($45). So if Uniswap Price closes a weekly candle below $11, $2 could become a valid Uniswap Price Prediction 2022. This would be a nightmare for Uniswap holders, though.
However, if the price successfully bounces off the 24th January low of $9.53, bulls can aim for higher targets. If crypto markets witness another DeFi season like summer 2020, Uniswap price could also soar. A retest of the $31-$32 region seems realistic before year-end. It also coincides with the 0.618 Fib level. This Fib level comes into play by connecting the May 2021 high of $45 to the 24th January 2022 low of $9.53.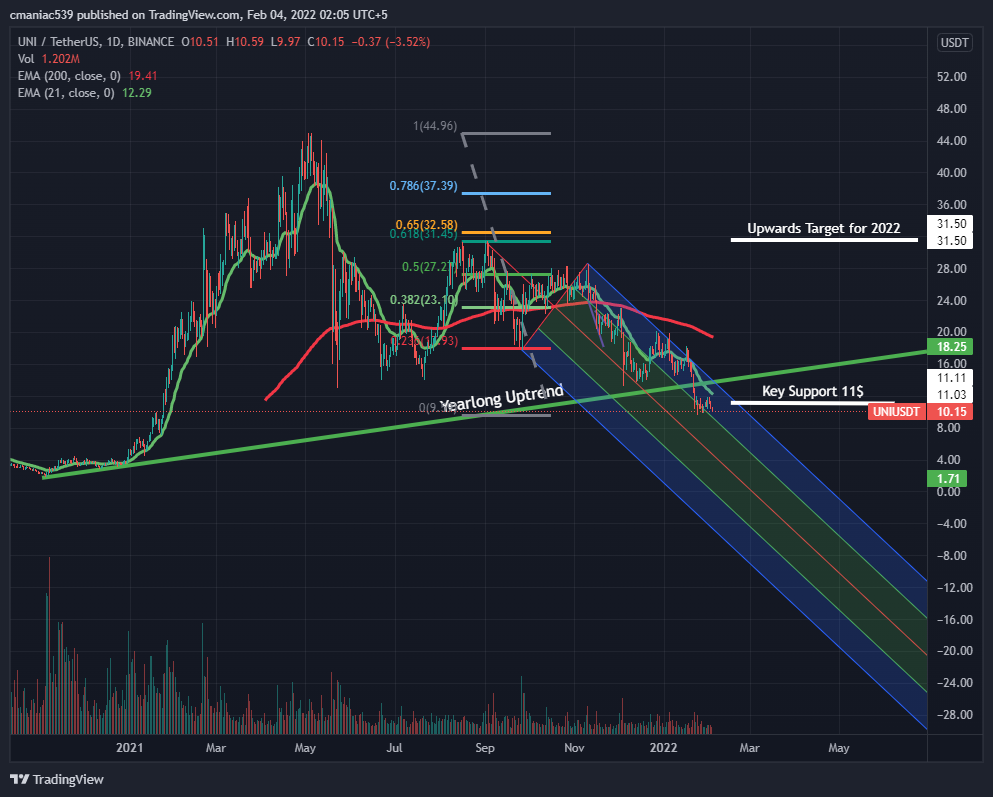 Uniswap Price Prediction 2025
Uniswap's UNI token is still less than two years old. Therefore, there is very little data to make Uniswap Price Prediction 2025. However, a fair approach could derive a prediction from Ethereum's market cap as Uniswap protocol resides on it.
Many analysts anticipate the total crypto market cap to touch $10 Trillion by 2025. Suppose Ethereum maintains its current market dominance of 17.6%. It will raise Ethereum's dominance to 1.76 Trillion by 2025. Taking the ATH of 0.02 Eth of UNIETH pair, 2025 could see UNI sitting at a market cap of $35 billion. It would mean a UNI price of $35, considering all 1 billion tokens to be fully unlocked by then.
However, if Ethereum 2.0 fixes Eth issues before 2025, Ethereum market dominance could skyrocket. In such a case, the top Ethereum DEX's native asset may also target $137. This target will align with the 3.618 Fib level taken from the May 2021 high of $45 to the recent low of $9.53.
Uniswap Price Prediction 2030
While any asset prices in 2030 could be anybody's guess, we can still consider the best and worst-case scenarios. As per Ethereum maximalists, it may become the world's financial layer by 2030. In such a scenario, the global derivatives could also be seen trading on Ethereum blockchain in general and Uniswap in particular. The global derivatives and equities market is currently estimated to be the north of 1 quadrillion dollars. If Ethereum gains even 1% of this market, its market cap could be over 10 Trillion by 2030. Let's say Uniswap gains 1/10th of this $10 trillion. This could put its valuation around a whopping $690 billion, considering its current market cap/TVL Ratio of 0.69, putting Uniswap price prediction 2030 at $690.
However, such high price targets could only be achievable if Uniswap maintains its spot of top DEX. For this to happen, Uniswap protocol would need always to stay ahead of their competitors like Sushiswap and other AMMs.
It must also be kept in mind that blockchain is a dynamic industry. Several new protocols with better tech could be launching in the next few years. Unfortunately, some of such high tech protocols could also render Uniswap outdated. Uniswap could lose liquidity to new protocols in such a case, and its UNI token could even go to pennies.