UMA price made headlines this week when the price pumped 20% in a single day. However, the coin has lost most of its Monday after a 17.5% in the past two days. If you are planing to buy this coin, it might not be an ideal time to buy it right now.
On Wednesday, UMA crypto is trading at 1.47% after falling 1.08%. Many analysts are speculating that the pump that occurred earlier this week could be a manipulated move.
UMA markets itself as a decentralized truth machine. It is an optimistic oracle that can verify any truth on the blockchain. However, like most other projects, it looks very ambitious but lacks mainstream adoption.
While the exact cause of Monday's surge in UMA is not yet known, to some extent, it can be attributed to the dramatic events of the day. On the same day, fake news about the approval of BlackRock's spot Bitcoin ETF went viral, causing an across the board spike in the crypto markets which was later reversed. While Bitcoin price was affected the most by the fake news, smaller coins like UMA crypto also experienced an increase in volatility. In fact, UMA price soared to 1.807, which was its highest level since July 2023.
Nevertheless, the UMA token which is the native asset of the decentralized ecosystem, remains a prominent cryptocurrency with a market capitalization of $109 million. This valuation makes it the 225th biggest digital asset in terms of market cap.
UMA Price Prediction
The UMA/USD chart shows that the price is currently respecting the $1.65 to $1.31 trading range. The $1.65 region has resulted in multiple rejections in the past few days. On the other hand, there seems to be strong support around the $1.31 level, from where the price has bounced on quite a few occasions.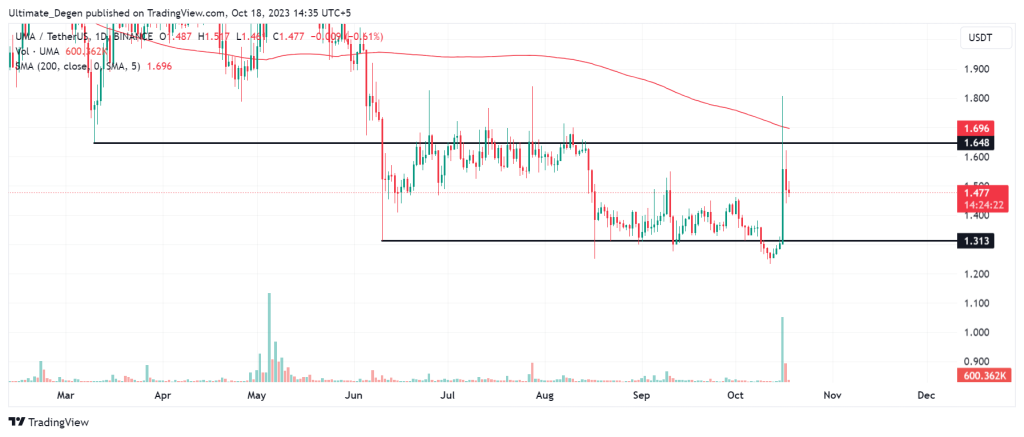 It is too soon to say that UMA price prediction is bullish, as the coin is yet to break above the $1.65 resistance level. If the bulls absorb all the supply available in the $1.65-$1.70 region, the forecast may turn very bullish. Until then, there will always be a possibility of another retest of the range lows.