The plight of the Turkish nation seems to be intensifying as the USD/TRY continues its flight. The Turkish Lira appears to have no bottom in terms of the US dollar, as the currency is making new lows every day. The high interest rates in the country are also proving to be ineffective in controlling the bloodbath.
The dollar to Lira exchange rate rose 0.3% on Friday. This puts the weekly gains for the USDTRY pair at 0.75%. Since the start of 2023, the Turkish currency has plummeted 46% against the greenback, sending inflation in the country to double digits.
Turkey Interest Rate Hits 30%
On Thursday, the Turkish central bank hiked the interest rates by another 500 bps. This put the interest rates in the country at 30%. Since June 2023, the interest rates have surged from 7% to the 30%. This abrupt change comes as the country faces unprecedented inflation and an increased cost of living crisis.
It is quite surprising that the USD/TRY pair has remained green despite a massive rate hike. After a surprising rate increase in August, the pair tanked 5.53% in a single day before crawling back upwards. This shows that the markets had already priced in the recent increase.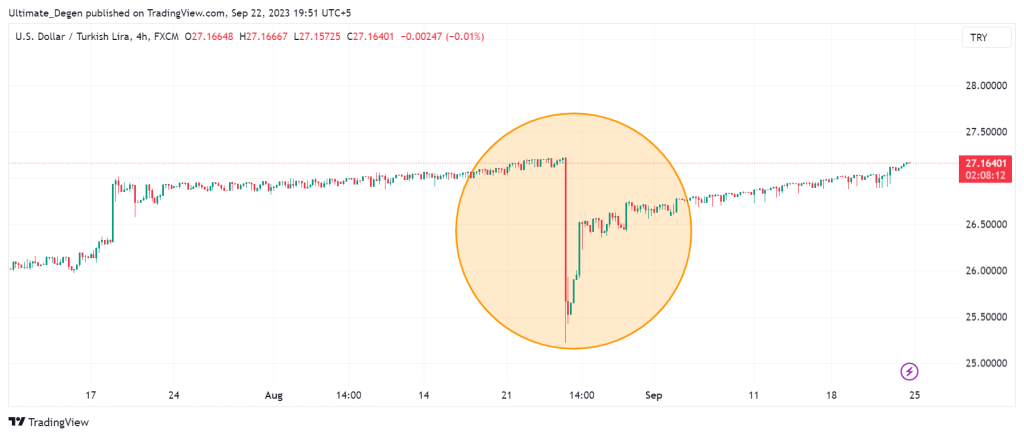 USD/TRY Outlook Remains Bullish
Apart from the staggering inflation in Turkey, USDTRY is also facing headwinds from the increasing strength of the US dollar. The DXY index has been up 5.79% since its July lows. This has offset the effect of the recent interest rate hikes. Unless the DXY takes a nosedive, it is unlikely for the USD/TRY to have a significant correction.
While the new Erdogan regime has finally pivoted to an orthodox economic approach, it still might take a long time for inflation to cool down. Many analysts also fear that the aggressive rate hikes could break the back of the Turkish economy, slowing down the country's growth.
In the meantime, you are also welcome to follow me on Twitter to keep track of my personal trades and the latest analysis on the forex pairs.