The Tullow share price continued the correction from recent highs as crude oil prices extended the drop for another day. Concerns over global growth amid rising Omicron cases and the extended Shanghai lockdowns coupled with lower demand from China continue to pressurise crude oil prices.
Oil stocks such as Tullow had benefitted from the recent ascent to multi-year highs. However, the recent decline in oil prices is also dragging the stock lower. The recent rise in the Tullow share price could also be attributed to some strategic investments it made in the last month, specifically the acquisition of additional stakes in Ghana's Jubilee and TEN oil fields. This raised its stake in the oil fields to 38.9% (Jubilee) and 54.8% (TEN), adding an unhedged daily production of 5,000 barrels.
Technically speaking, the correction follows profit-taking from the bulls who benefitted from the completed bullish pennant. As a result, the Tullow share price is down 1.20% as of writing and looks set to end the week on a lower note. 
Tullow Share Price Outlook
Following the completion of the Tullow bullish pennant on the daily chart, the attempt by the bulls to breach the resistance at 60.20 (20 January high) failed. The correction looks set to target the 54.70 support (27 January low and 1 March high). If the correction extends below this pivot, the nest target comes up at 51.90 (28 February and 30 March lows). Additional support may come in at the 49.00 psychological price mark and site of the 6 January/3 February lows and 46.15 (23 September 2021 low/30 December 2021 high).
On the flip side, the bulls would be hoping to initiate a bounce at the 54.70 support or an immediate lower pivot, targeting to break beyond the 60.20 price barrier. If this move is successful, the next target comes in at 63.45 (8 March high) before 66.05 (17 June 2021 high) makes itself available as another target to the north. Beyond this level, 70.70 constitutes an additional northbound target, serving as the previous 13 December 2019 high.
Tullow: Daily Chart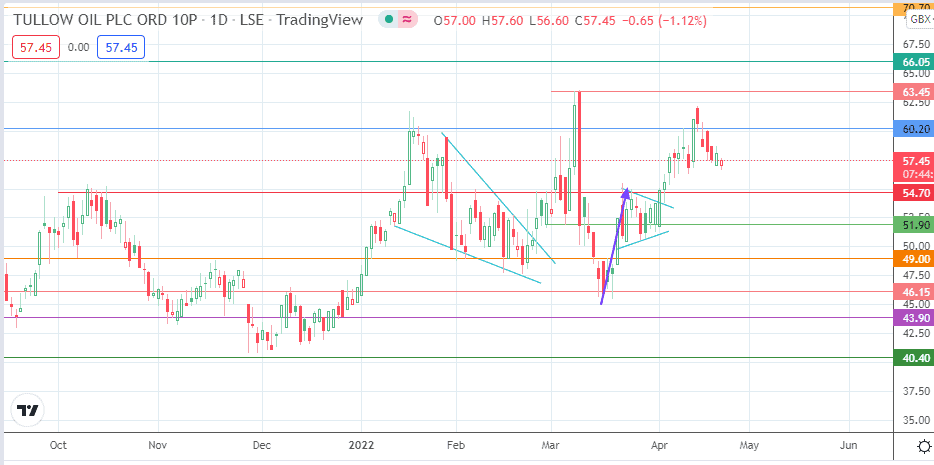 Follow Eno on Twitter.