The TONIC price has erased some of its gains earlier this month as investors reflect on its strong growth. Tectonic is trading at $0.000010, below its monthly high of $0.000011. As a result, its total market cap has dropped to about $57 million, making it a relatively small DeFi platform. It has a total supply limit of 500,000,000,000,000 while 57,162,740,169,964 TONICs are currently circulating.
What is Tectonic?
Decentralized Finance is a leading industry-changing how people handle and access financing. DeFi platforms are letting people borrow money without going through a bank. Others enable people to trade digital assets without going through centralized platforms like Coinbase and Binance. Other DeFi platforms offer automated market-making (AMM) and liquidity services.
Tectonic is a relatively new algorithmic-based money market protocol that allows people to provide liquidity and earn a return. It also lets people borrow money in an over-collateralized model. Its model means that users can only borrow about 75% of the total value of their collateralized assets. On the other hand, liquidity providers receive a corresponding tToken such as tETH and tUSDC.
The platform is powered by TONIC, the native coin for the protocol. The coin is used to pay fees and ensure the governance of the network. Tectonic is one of the fastest DeFi platforms built using Cronos, formerly known as Crypto.org Chain. At the time of writing, the total supply in Tectonic was over $1.04 billion, while the total borrow was over $556 million.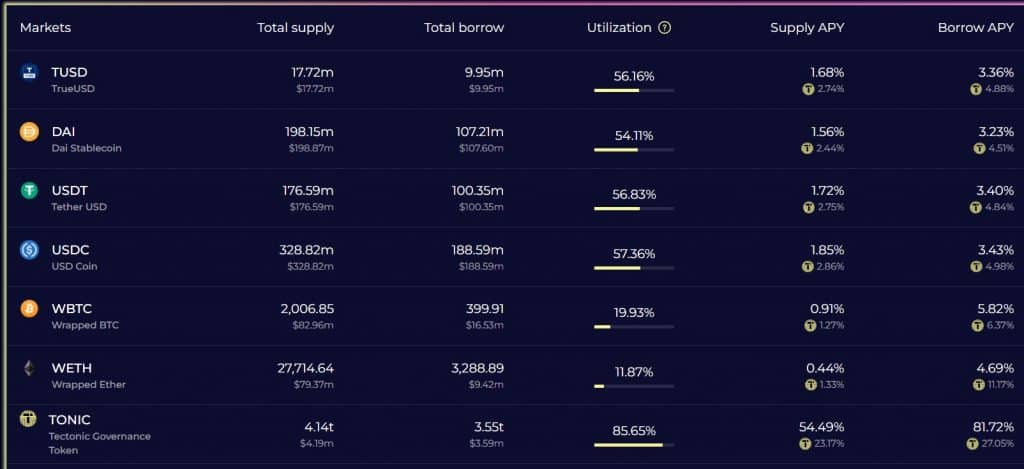 TONIC price prediction
The daily chart shows that the TONIC price declined sharply in the past few months. It managed to move to an all-time low of $0.00000074. It has rebounded sharply in the past few days and has moved above the 23.6% Fibonacci retracement level. The coin has also moved slightly above the 25-day and 50-day adaptive moving averages. Therefore, there is a likelihood that the coin will resume the bullish trend as bulls target the 50% retracement level at $0.0000013.