Video-Streaming Token THETA burst through resistance yesterday, jumping to its best trading day in three months and closing in on a double-digit price tag. After spending a month grinding against the support of the key moving averages, Theta (THETA/USD) turned higher. The token has now cleared trend resistance and encouraged a wave of momentum buying, which is likely to increase the price in the near term.
The cryptocurrency market is enjoying its second bull run of 2021. Prices across the board are buoyant, and the total market cap has forged higher to $2.35 trillion. Furthermore, several assets like Solana (SOL/USD) have even eclipsed the highs earlier this year, setting records far above previous ones. However, coming into September, the THETA price had struggled to emulate some of the better performers, but a positive close today would mark the 5th straight day of gains for THETA.
Despite the hot run of form, there are concerns that the crypto market is getting ahead of itself. And therefore, it's hard to say whether the buying we see in Theta is by strong-handed investors or those just hoping to catch the next crypto to pop.
THETA Token Price Analysis
The daily chart shows that since the July low, THETA token price has been trending higher. In that time, Theta increased by almost 180% (at yesterday's high). As a result, the token has broken above trend resistance at $8.75. This should cause the Theta price to extend towards the early June highs around $10.50. However, the Relative Strength Index has ventured into overbought territory. But although the 71.90 reading is considered high, cryptos often overshoot. Nonetheless, it does suggest that the rally is looking a little stretched.
As long as Theta stays above the trend resistance-turned-support, the technical outlook is constructive and should lead to higher prices. However, I am concerned the overall market is showing signs of exuberance, and on that basis, a pullback cannot be ruled out. That being said, should Theta fall below the trend at $8.75, it will invalidate the bullish view and suggest a return to the Moving average support.
Theta Price Chart (Daily)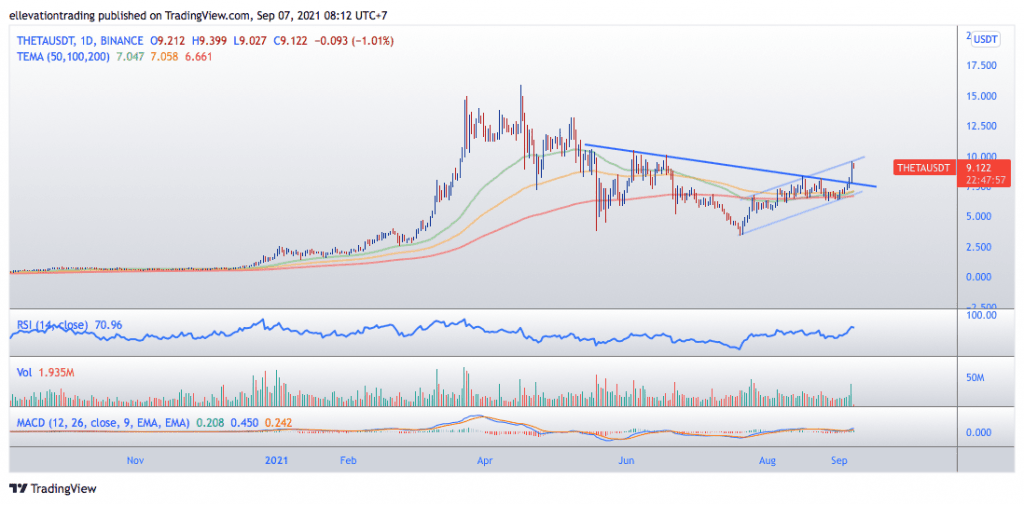 For more market insights, follow Elliott on Twitter.