After generating more than 1000% returns in 2021, Theta price is currently 77% down from its April 2021 all-time high.  The price dropped to $2.27 on 24th January 2022, indicating that another ATH is highly unlikely in 2022. In this article, we'll discuss the bullish and bearish scenarios for generating Theta price prediction for 2022, 2025, and 2030.
What is the Theta Network?
Theta Network is a decentralized video streaming platform that leverages blockchain technology to relay streaming data through decentralized nodes. Theta Network aims to cut down the distribution fees that most of the centralized distributors have to bear. The decentralized network also makes Theta much more censorship-resistant than most of the other streaming platforms.
Theta Network has two native assets which are THETA and Tfuel. Theta token is used for staking and securing the network. It will also be used for network governance in the future. Tfuel is used to incentivize the nodes that secure the network and provide it with the necessary computing power. At the time of writing Tfuel price is $0.20 and it is around 70% down from its all-time high. To keep things short, we'll be only analyzing Theta coin price prediction. Just like Theta, Tfuel price prediction also massively depends on the success and adoption of the Theta network.
Project Founders and History
In 2017, Mitch Liu and Jieyi Long laid the foundation of Theta Labs. Its main objective was to develop a decentralized solution for the problems they were facing with their streaming platform. Consequently, Theta blockchain was launched in 2019 with the aim to distribute videos to the end-user at minimum cost. Theta network is secured by a network of enterprise validators. Multiple tech joints like Google, Sony, Samsung, and Binance have partnered with Theta network and all are running enterprise nodes. These big partnerships played a key role in sending Theta price into the stratosphere in 2021.
Since there are very few enterprise nodes, Theta network uses Guardian Nodes to counter-check the blocks produced by validator nodes. These guardian nodes further secure the Theta network while making it more decentralized as well. Both enterprise nodes and guardian nodes require to stake Theta tokens. These nodes receive their staking incentives in the form of Tfuel tokens.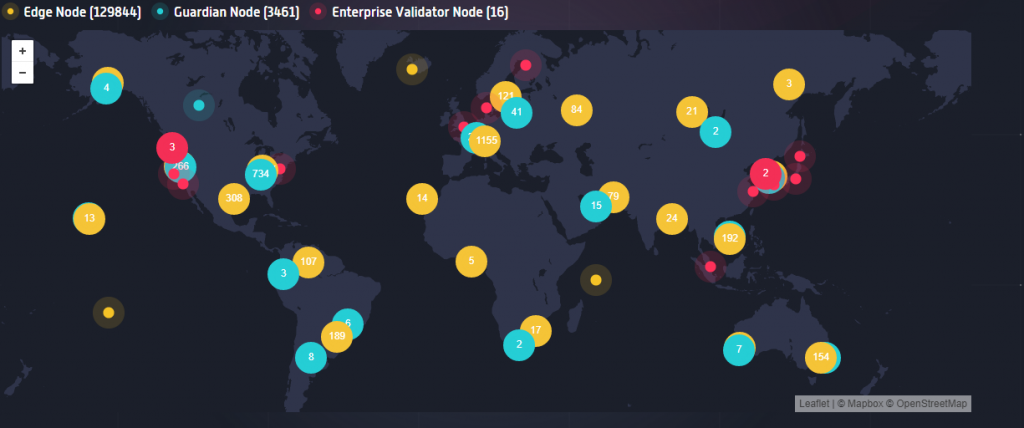 Latest Theta Coin News Today
Since Theta blockchain also has smart contract functionality, it has a similar architecture to that of Ethereum.  Recently Theta has also launched their Theta marketplace which boasts Katy Perry and One Championship as partners. Katy Perry has already launched several NFTs on this marketplace which is known as Theta Drop. The marketplace is powered by its own token called Tdrop.
According to the latest Theta news, Samsung is going to drop its commemorative NFTs on the platform. These NFTs will be exclusively available to the users who pre-order S22 or S8 Tablet. As per the official stats from Theta Network, there are currently 16 enterprise nodes. In addition, 3,461 Guardian nodes and 129,844 Edge nodes are also online. DeFi Lama shows the Total Value Locked (TVL) on the network around $233 million and it is further increasing.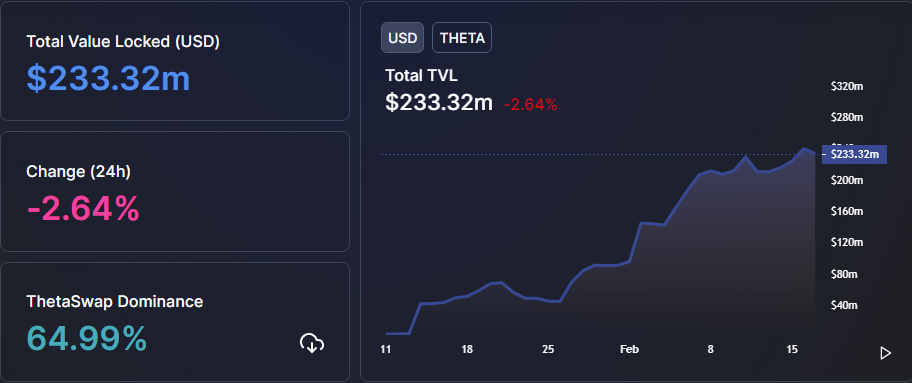 Theta Price Prediction 2022
Owing to massive enterprise partnerships and growing investor interest in web streaming, Theta crypto went to $15.88 in April 2021. However, the price couldn't stay at those price levels and eventually faced a massive sell-off. Theta coin dipped to the new lows of $2.27 in January 2021. This was a lower low than the July 2021 low of $3.49. Nevertheless, the price saw a huge bounce at this level and went to $4.33 level, where it ran into resistance. For our bullish Theta price prediction 2022, the price needs to break out of the falling wedge making higher highs.
A close above 200 EMA could give bulls enough momentum to push it to Fib golden pocket at $10.7-$11. This is the Fib retracement from the April 2021 high of $15.88 to the recent January 2022 low of $2.27. Any Theta price target higher than $11 seems to be highly unlikely in 2022 due to its huge market cap. Currently, Theta is the 43rd biggest cryptocurrency sitting at a market capitalization of $3.4 billion. The same market cap went to $14 billion in April 2021. Due to an already huge market cap, the upside for Theta in 2022 appears very limited.
Crypto markets are still in a very delicate zone after the brutal start of the year. Therefore, any lower low than $2.27 can push the Theta token into a longer accumulation cycle. If this happens, price targets of $1.5 in short term and $0.6 in the medium-term look quite possible.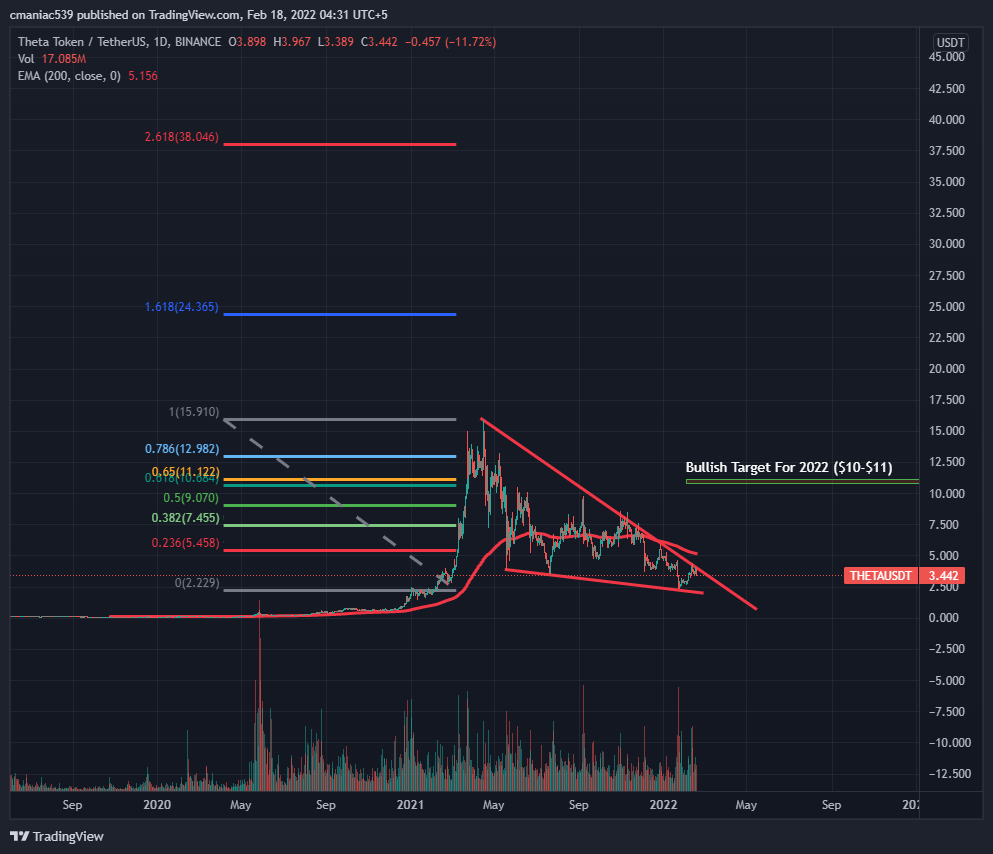 Theta Price Prediction 2025
Cryptocurrencies are still a very volatile market and the macro-economic and geopolitical environment play a very significant role in their pricing. After the recent Fed announcement of rates hike, crypto markets have already seen a massive bloodbath. If the quantitative tightening kicks in and continues for another few years then it could be curtains for crypto. However, crypto prices could flourish once again as soon as the money starts pouring into traditional markets. In such a bullish scenario we can take a shot at our Theta price prediction 2025.
Any price prediction for the next few years could be anybody's guess. Nonetheless, taking a closer look at the charts could really give us some key levels. If Theta network gains much traction by taking a major chunk of streaming business, it might breach $15 by 2025. Since crypto markets could be in another bull run by 2025, so extended price targets of $24 $ 52$ are also possible. Both of these price targets lie at 1.618 and 3.618 Fib extension levels of recent retracement from ATH.
Theta Price Prediction 2030
There are only two long-term scenarios for an ambitious project like Theta Network. We can either assume to be the market leader in its niche or completely wiped out by 2030. This is due to the fact that 10 years is a significant amount of time for any project to prove its worth. If Theta really on boards billions of users like YouTube, then the price would show similar growth. Even in such a bullish scenario, it would be a miracle for Theta to touch $100. This is due to a huge circulation supply of Theta coin i.e. 1 billion. This massive supply would put its market cap at $100 billion at a price of $100 per coin. Some conservative estimates put YouTube at a valuation of around $200 billion. Therefore, if Theta somehow gets an exponential adoption flipping YouTube, any dubious-looking price target could realize by 2030.
Is Theta a Good Investment?
Since Theta has already been in a severe downtrend since April 2021, the current price level doesn't appear to be a good entry. Those who want to invest should wait at least for the price to break out of the downtrend and find support. If the price keeps dipping then the dollar costing your position till $0.6 could also prove to be a decent long-term opportunity.