The BTC to GBP pair is slightly up this Friday but is trading within a narrow range on a day characterized by low trade volumes. The low volume is not unexpected; it is a day to Christmas, and traders are wary of taking too much risk ahead of the holiday.
Bitcoin prices staged a late rally on Thursday, allowing the BTC/GBP pair to gain 4.05% on the day. After Wednesday's pullback to this pivot, this price increase came off a bounce on the 36306 support.
The price pattern is gradually evolving into a rounding bottom pattern. Given that the preceding price pattern was a downtrend (or rather, a downside correction), the reversal pattern is expected to resolve with a break to the upside, which could boost bullish BTC to GBP price action.
The pair has gained 0.42% on the day, despite a pushback at the 38221 resistance by the bears.
BTC to GBP Outlook
All that stands between the price and the completion of the rounding bottom pattern is the neckline at 38221. If this neckline is broken, the pattern is complete, and the price action is free to seek a measured move to 42531. This move must take out 40920 for completion to be achieved.
On the flip side, rejection at 38221 could spur a pullback which targets 36306 initially. Only when this support level breaks down will the expected upward resolution of the pattern be negated. This will open the door for 34036 (17 September and 4 December lows) to become a new target to the south. 
BTC/GBP: Daily Chart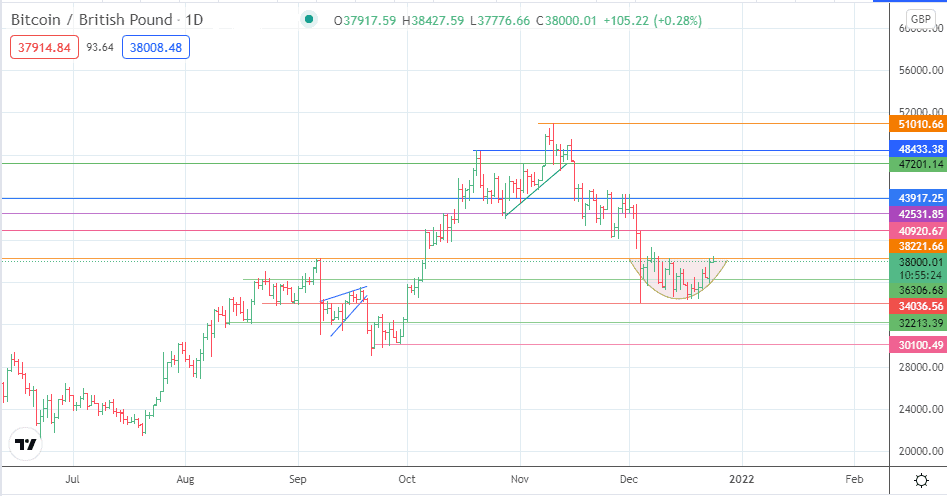 Follow Eno on Twitter.