The EasyJet share price continues to trade lower as it remains pressurized by the travel restrictions put in place in the UK and across Europe due to the spread of the Omicron COVID-19 variant.
However, the company is trying to turn the situation around, as it has signed a partnership with Virgin Airways to handle some of the latter's connecting flights.
Under the extension of the partnership, which was first formed in 2018, easyJet can ferry passengers that have booked Virgin Atlantic flights to destinations such as New York and Barbados via connections in Belfast, Edinburgh and Manchester. Typical connections via Manchester airport this December are flights from Belfast to Barbados, in which easyJet will fly passengers to Manchester, with the rest of the journey completed by Virgin Atlantic.
The company has also announced 78,000 flights to run its autumn schedule between 1 October and 30 November, as it expects a recovery of flights from more comprehensive vaccination coverage.
EasyJet Share Price Outlook
The EasyJet share price decline on the day has violated the 508.8 support level. The breakdown is confirmed if the price closes below this mark with a 3% penetration. This move would open the door for a decline towards 472.0, marking new 2021 lows. A further dip towards 395.4 allows the pair to touch off 1-year lows.
On the flip side, a recovery towards 548.8 must be preceded by a close above 508.8, securing this support level. Additional recovery towards 607.8 and 655.8 has to follow increased bullish momentum on the stock. Presently, this is lacking and any rallies may present themselves as potential selling opportunities. Only a break of the 655.8 resistance changes the sentiment and opens the door towards 684.8. 
EasyJet: Daily Chart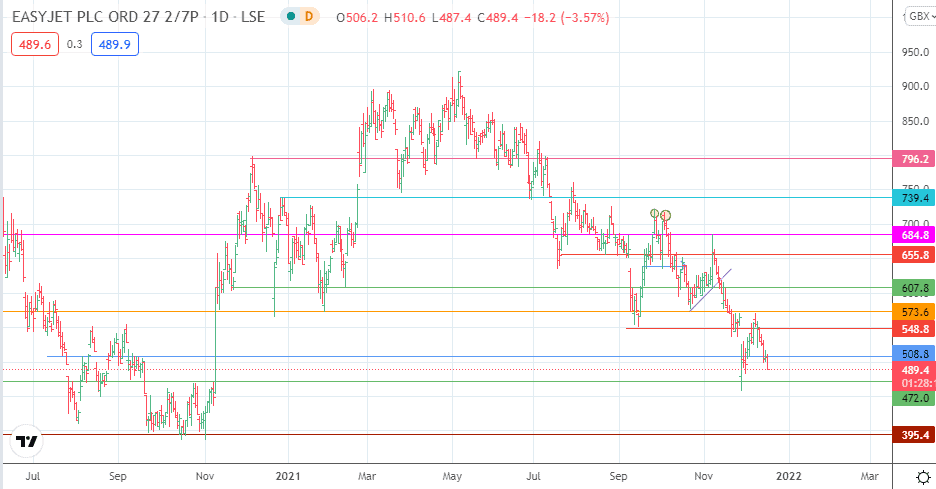 Follow Eno on Twitter.